Top 10 Low-Cost Business Ideas You Can Start Today (II)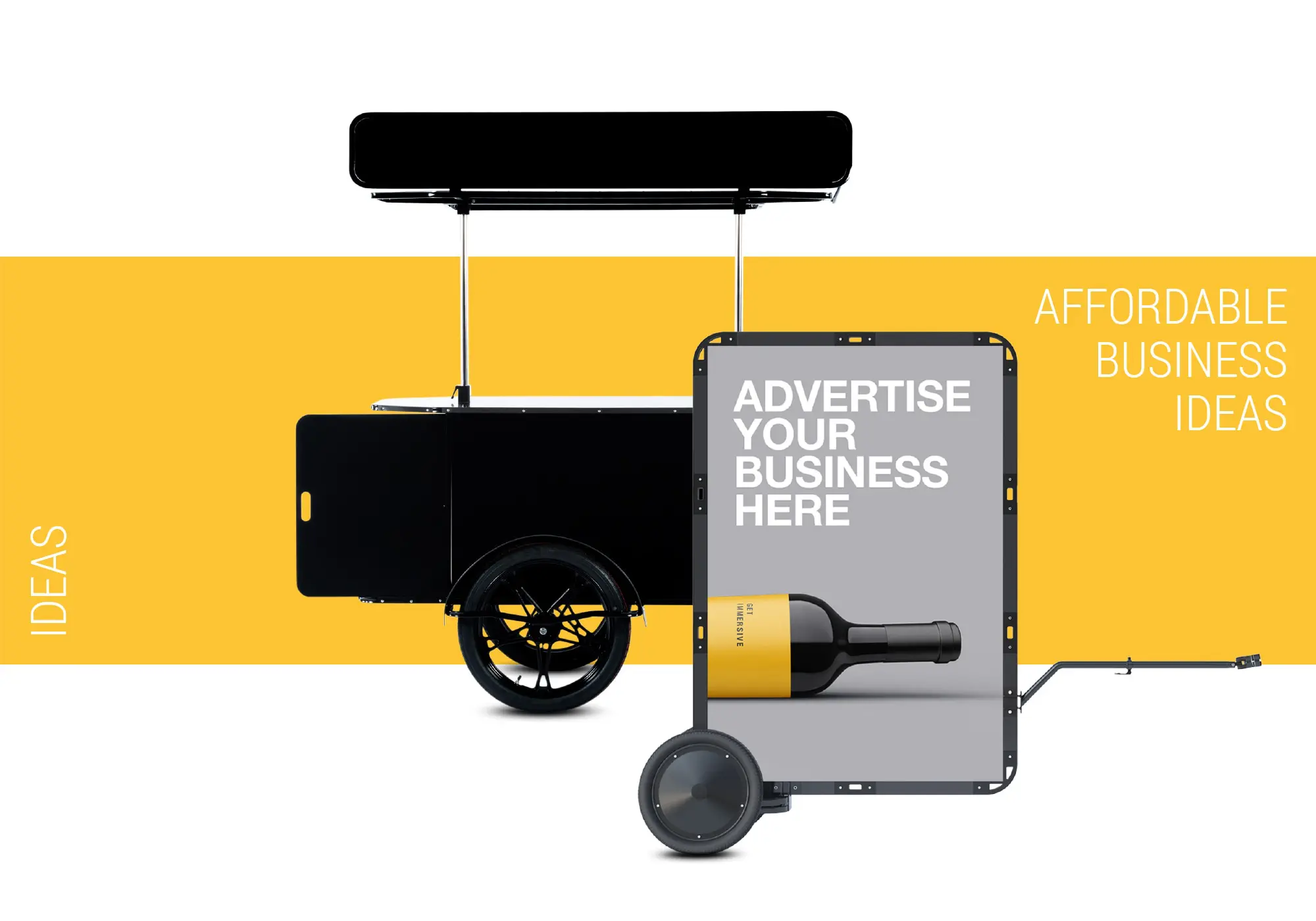 Are you dreaming of becoming a successful entrepreneur? If starting your own business is something you've always considered but didn't know where to start, the good news is, you can make it happen with a little bit of determination and some elbow grease. But finding the business idea that's right for you, and also practical, isn't an easy process – it involves a lot of brain-picking and research. If you're not sure where to start, here's our Top 10 Low-Cost Small Business Ideas You Can Start Today – Part II.
Last week we've discussed the first five small business ideas, which revolved around outdoor advertising and the food industry. Part II is all about beverages and small goods; let's get going, shall we?

Top 10 Low-Cost Small Business Ideas You Can Start Today, By Industry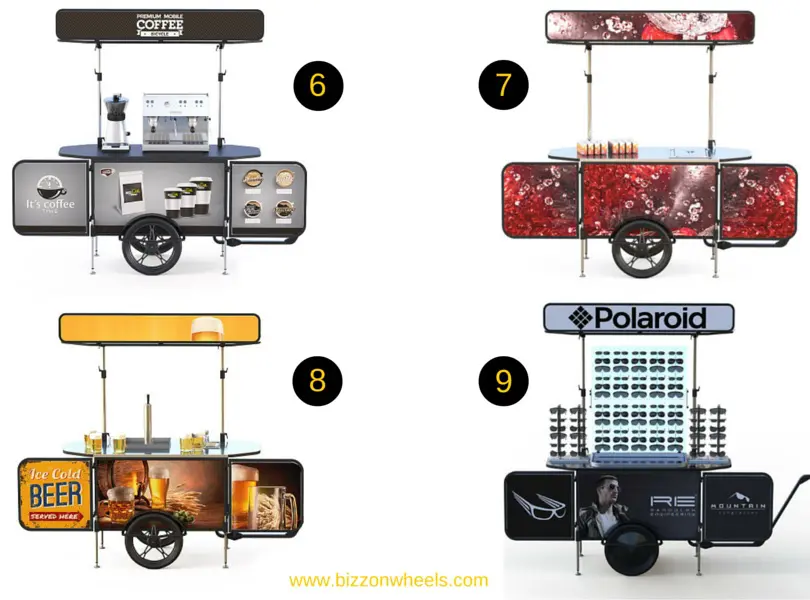 Street Food & Beverage Business Ideas

6. Start a Coffee Cart Business
Do you enjoy preparing a good cup of coffee while making casual conversation? Then consider starting your own mobile coffee cart business.
With low start up costs, great profit margins (up to 95%) and without any seasonal constraints, operating a coffee shop on wheels on a full or part-time basis can be the best financial move you'll make in a long time.
Because it does not require a brick-and-mortar location, the financial requirements for starting this business are much lower than starting a traditional cafe and, since your business would be mobile, you wouldn't have to wait for customers to find you – you'd find them yourself.
Even more so, specialty coffee is becoming a growing trend and there are many coffee aficionados willing to pay extra for a high-quality cup of caffeinated nectar. So, if you can make one that is twice as good yet less expensive compared to the famous labels out there, you will surely attract lots of customers in no time.
If you decide to start a coffee cart business, you should first work out all the legal and licensing requirements with the appropriate authorities from your area and from the areas you're planning to operate in, since these type of regulations tend to vary from one location to another.
Once this is sorted, you can go ahead with planning your business in greater detail.
Total Investment: US $4500 will get you a bike-towable coffee cart and cover the start up expenses. You'll need to bring in a minimum of US $200 per day in order to make a living, however, most successful coffee vending cart owners can bring in as much as US $600 a day. Provided you could generate a daily average of US $250, you should recover your investment in under 30 days.
7. Start a Smoothie / Fresh Juice Cart Business
No sunny day is complete without a glass of minty-fresh lemonade or a deliciously creamy smoothie. Which is why this type of business – a juice or a smoothies vending cart – thrives from early spring to autumn bringing in, on average, US $200 a day.
However, the real financial potential of a smoothies/juice cart is much bigger than that: since a quality product will always trump an inferior one, your income will largely depend on your ability to woo customers with delicious drinks and to stock your cart with high-quality ingredients at the lowest possible cost.
With smoothies being a popular substitute for breakfast and a healthy coffee break treat, the busiest times of the day for a lemonade/smoothies vending cart are usually from morning until 11 am and then again between 2pm and 4 pm. Lemonade, on the other hand, is an all-day beverage whose only prerequisites are thirst and a little bit of sun.
Everyone who operates a food and drinks vending cart needs a business license and a street vending permit and, even if in most cases these are easy to come by, the regulations vary from city to city and country to country.
Total Investment: with US $6000 you'll get a ready-to-use beverage cart and pay your business licensing and start up fees. You should expect an average income of US $250 per day, with the potential to double the amount during the hottest months of the year. A full return on investment can happen in 4 to 6 weeks.
8. Start a Beer or Wine Cart Business
What's more relaxing on a warm summer evening than having a pint of cold beer or a glass of good quality wine? Few things are, especially after a long day of work.
Although selling alcohol is strictly regulated in most countries around the world, making it challenging to sell beer or wine outdoors, there are plenty of income-generating opportunities for a beer cart or a wine vending cart owner.
Think concerts, private events, parties, fairs, and festivals – all you need to do is to identify the opportunities in your area and reach out to people involved with the purpose of creating partnerships and long-lasting business relations.
Keep in mind that alcohol can cause harm if misused, therefore, it's important to sell it in a manner that minimizes any potential harm and ensures the well-being of the customers and those around them.
Total Investment: a budget of US $6000 will cover the acquisition of a beverage push cart, the set up fees and licensing costs. Since this is not the usual street vending business, your daily income will largely depend on the nature of your private deals and arrangements. However, you can estimate a full return on investment in less than 6 to 8 weeks.
Street Vending Business Ideas


9. Seasonal Accessories & Small Goods Vending Cart Business
Whenever we think or hear about vending carts, the picture that immediately comes to mind is that of a hot dog cart. But there's a great variety of vending carts in today's marketplace, adapted to various types of merchandise. The chances are, for every sellable item there's also a vending cart fitted to sell it, from popcorn and coffee to candy and funky sunglasses.
While food & beverages vending carts require special permits and licenses, the story changes when it comes to small goods and seasonal accessories. For example, in the US, vending cart owners can sell newspapers, magazines, cd's, books and art without a vending license, under the protection of the First Amendment.
However, different rules apply to items such as sunglasses, handbags, and other small goods – seasonal or not – which is why we recommend you to do your own research in terms of legal requirements and business licensing.
Total Investment: US $7000 are enough to get you a multifunctional vendor cart and pay for your initial merchandise stock and start up fees. Your return on investment will depend on the goods you're going to sell, their profit margins and the selling opportunities in your area, which is why is difficult to provide you with an accurate ROI estimation for this type of business.
10. Souvenirs & Handmade Goods Vending Cart Business
In terms of licensing, regulations, budget, and profit, this business is very similar to the one above – Seasonal Accessories & Small Goods Vending Cart Business. 
If you're a people person and good at making tasty snacks, drinks and small talk, that will ultimately result in a growing number of sales and recurrent customers. Most of your vending cart work will revolve around preparing your merchandise, cleaning your cart, and carrying supplies, so be prepared to invest a good portion of your time and energy into getting your business off the ground.
These are just a few of the many small business ideas and opportunities that have become lucrative in the past few years, and there are many more out there waiting to be discovered. Who knows, your entrepreneurial success may be just around the corner.
Until then, remember that your only limits are those posed by your skill set and imagination. 
Good luck!