How to Choose the Right Food Cart for Your Business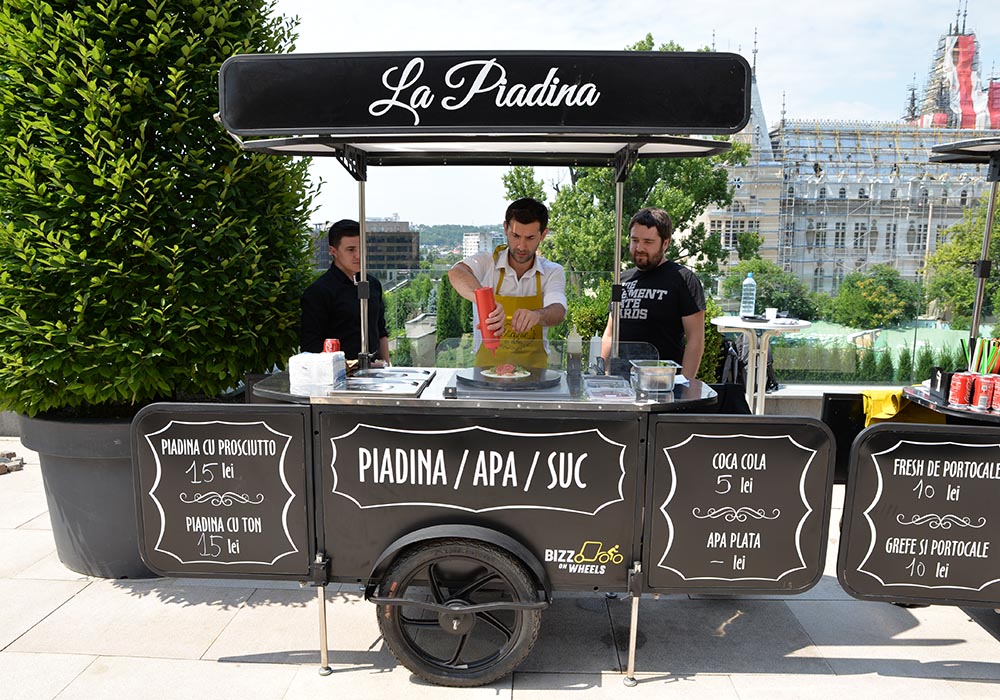 Any food cart for sale can look the part, but how do you know which one is right for you?
Mobile, practical and easy to operate, food carts are popping up all over the world as a feasible  – and much more affordable – alternative to brick and mortar ventures.
And if you're reading this guide, then you're most likely considering buying one yourself – a task that can be both time consuming and intimidating. 
In order to make this process less so, and maybe even save you an email or two, this guide touches upon the most important aspects involved in choosing the perfect food cart for your business.
But first, consider this: is a food cart the solution you're looking for?
And if you're:
an entrepreneur ready to start a street food business – whether it's specialty coffee, ice cream, pastry or hot dogs,

a passionate barista or a seasoned chef in search of a practical and simple way to cater to events,

a business owner, such as a coffee shop or a bistro, looking to take your business mobile,

someone who manages a restaurant, a hotel or an institution such as a museum or a theatre, and you're searching for the perfect addition to your premises to further entertain your guests (and generate some extra revenue),
then a food cart would be the best and the most cost-effective way to achieve all of the above.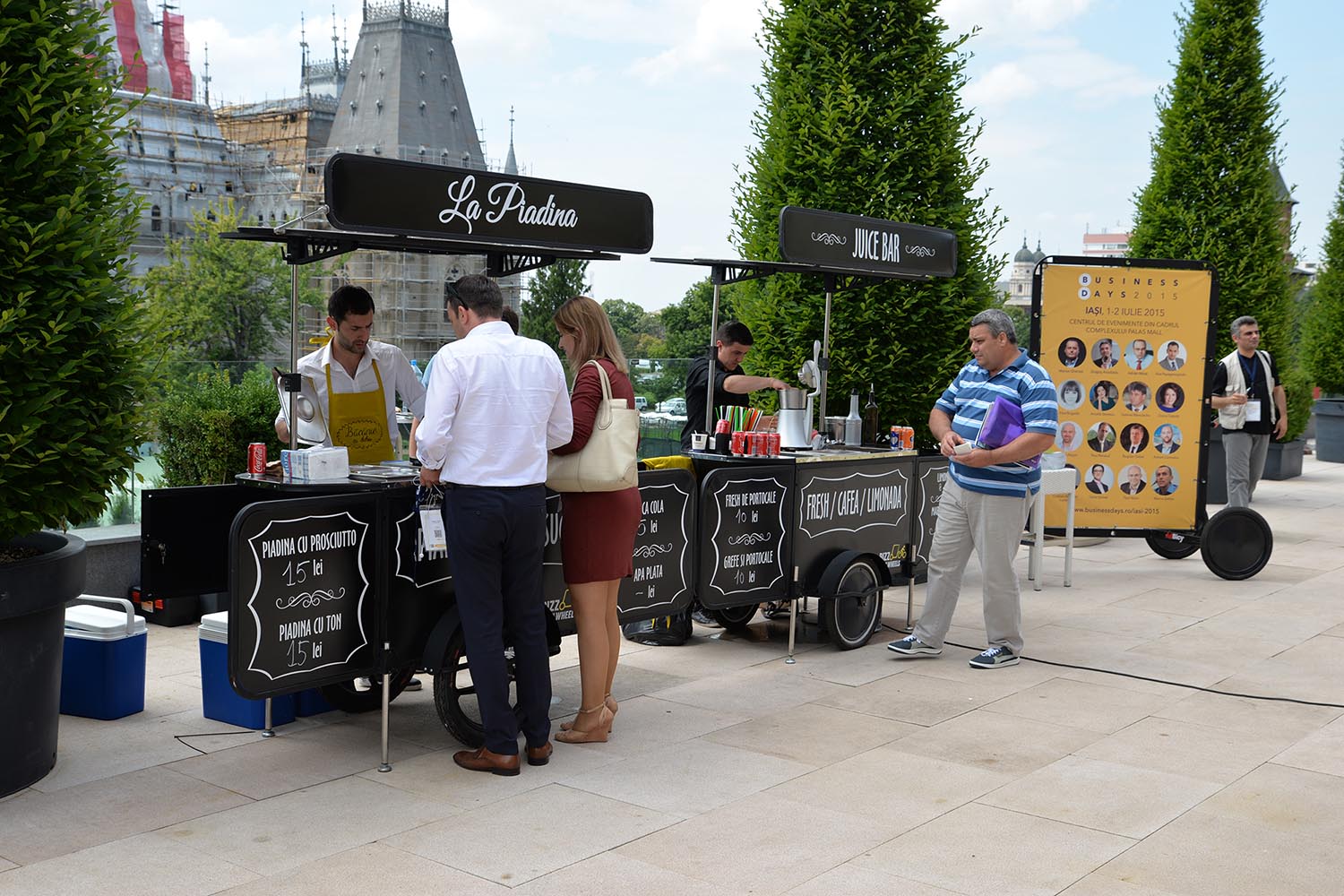 Now, let's see the most important factors that you should base your decision on:
What You Need to Consider When Looking at Food Carts for Sale


1. Budget
As you're starting to research your options, you most probably do so with a budget in mind  – which is important as it will help you narrow down your selection right from the get go.
This being said, there are two things you should be mindful of:
Cheaper isn't always better as a cheaply made cart can prove to be far more expensive in the long run  – either to maintain or to altogether replace.

Your budget covers all the cart-related expenses, from equipment and accessories to optional features that could prove handy or even necessary when setting up your mobile business.


2. New or Used
One of the most important decisions you have to make when buying a food cart is whether to purchase a new or a used one. Each choice has its own advantages and disadvantages, and while a used food cart can save you money, there's also the possibility of buying someone else's headaches. Ultimately, your decision comes down to what your budget is and how much you can afford to pay up front.
Pros
Outfitted with brand new equipment and accessories

Can be customized with features that meet your specific needs

Covered by warranty

Risk of breakdowns and repairs greatly reduced

New, fresh look
Cons
Costs more than a used food cart

Can involve a longer lead time if customization is required

Advantages and disadvantages of buying a used food cart for sale:
Pros
Cheaper than a new one

Already equipped & customized

No lead time
Cons
Higher risk of breakdown, costly repairs and maintenance

Lower life-expectancy

No customizations possible

No warranty




3. Type of Food Cart
While all food carts share the same purpose, not all are created equal. In fact, functionality-wise, there are as many differences between them as there are similarities. 
For example, some food carts can only be used as push carts; others can also be towed by bicycles. At the same time, many mobile food stands are limited to outdoor use only because of safety regulations concerning certain types of equipment.
These particularities can make a huge difference for your business and, by taking them into account before making your purchase, you won't be met by usage limitations later on.
If street trading is your main goal, then the choice is simple and a bike-towable street food cart, whether it's gas, energy independent or dual-fuel, will do the job.
On the other hand, if your objectives are catering and indoor trading, then you should look for a food cart for sale that's suitable for indoor use, both in terms of equipment and design.


4. Size
Size is another important factor to consider when choosing a food cart. You need to make sure that its work surface, countertop layout and storage capacity are up for the task you have in mind since there's really no way of altering them post-purchase.
For prepackaged goods, foods and beverages such as crepes or coffee, even a small food cart could suffice, especially for sampling purposes or if the trading is done indoors, over short periods of time.
For foods that require multiple ingredients, seasonings or toppings, and a more complex preparation method – hence a larger countertop and more storage needed – an extra large food cart would be ideal.
However, large food carts are often the go-to solution for most businesses. They provide an optimal amount of space, both work and storage wise, and their countertop layout is designed to ensure a smooth workflow at all times.
5. Equipment
The equipment you need on your food cart is strictly based on the type of food you are going to serve. For example, a pastry cart doesn't need the same appliances a burger cart requires in order to be fully functional.
The most basic option, suitable for premade salads, pastry or sweets, is a food cart with refrigerator and a running water system.
For selling ice cream, you need a food cart with freezer; for burgers, a food cart with grill.
How these appliances are powered is also important.
Smoothie, panini and ice cream carts tend to be all electric while burger and coffee carts require gas or dual-fuel systems.
Either way, your cart will most likely need an electrical system for refrigeration and other small appliances.


6. Accessories
To optimize the end-user experience, most food carts manufacturers offer a wide range of accessories, such as folding countertop extensions, cold or hot storage food pans, solar panel, electric motor, batteries, GPS etc.
What type of accessories you need or whether you need them at all is determined, again, by the type of food you're going to serve. 
7. Legal Requirements
Although the legal requirements concerning street food differ from country to country, you'll most likely need to have your food cart's gas and electrical installations certified by an approved body before you start trading.
In many countries, states and districts there are also regulations concerning mandatory food carts equipment, such as separate sinks for hand washing and utensils.
Therefore, you must first find out what legal requirements apply to you by contacting your local authorities. 
You should then discuss them with your food cart manufacturer/supplier to make sure you'll be compliant and get all the certifications necessary for your business.
Although food carts themselves cannot be yet certified, such as with the CE marking, a legitimate professionally-made food cart for sale should only use certified appliances, gas and electrical systems.
Conclusion
Buying a food cart involves a lot of research, time and money, but if you follow the steps outlined above, the process will be easier, less time-consuming, and run more smoothly. 
And whether your goal is to start a street food business or to grow your sales, the right food cart will take you from investment to profit in no time.