How to Create Successful Outdoor & Bike Advertising Campaigns With the AdBicy Mobile Billboards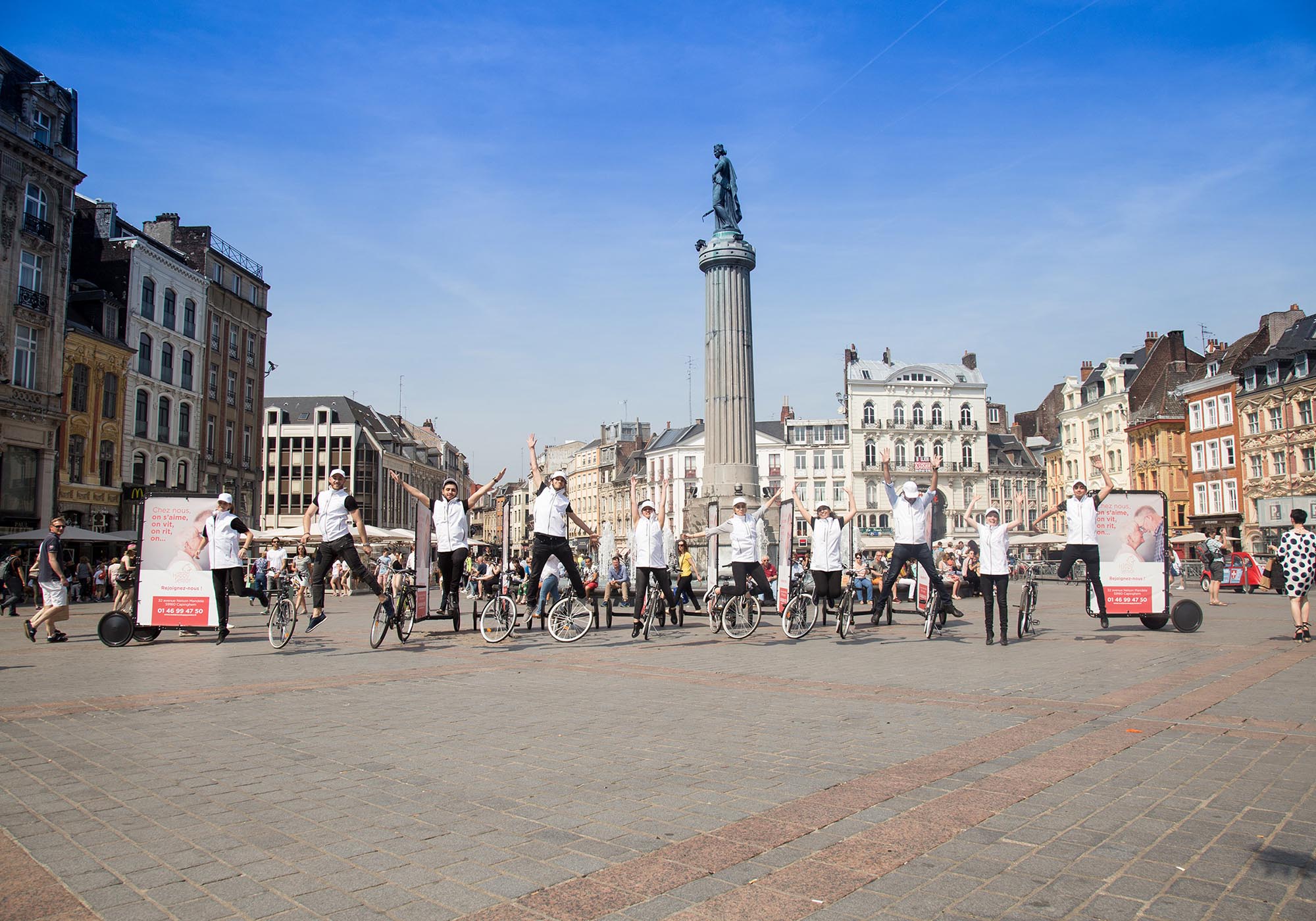 In a world saturated with digital ads, bike advertising may be the key to increasing brand retention and customer engagement. But how is that possible?
With over 70% of our waking hours spent out of home, outdoor advertising is still one of the most effective methods of getting your message across. 
So effective in fact, that, according to Nielsen, outdoor advertising is the best non-digital medium for generating online activity. 
The reasons are simple: 
while TV, radio or online ads can feel intrusive and unwelcomed, outdoor advertising is expected and, in some cases, even celebrated – see Times New Square, for example.

While digital and in-home advertising can be blocked, ignored, muted or switched off, outdoor advertising is not only eye-catching but also unavoidable. 
When it comes to outdoor media, professionals within the industry consider mobile & bicycle billboards as among the most effective and valuable devices in their advertising arsenal.
Their claim is backed-up by numbers: according to Outdoor Advertising Magazine, 97% of people are able to recall mobile billboard ads compared to 58% of people remembering ads they saw online.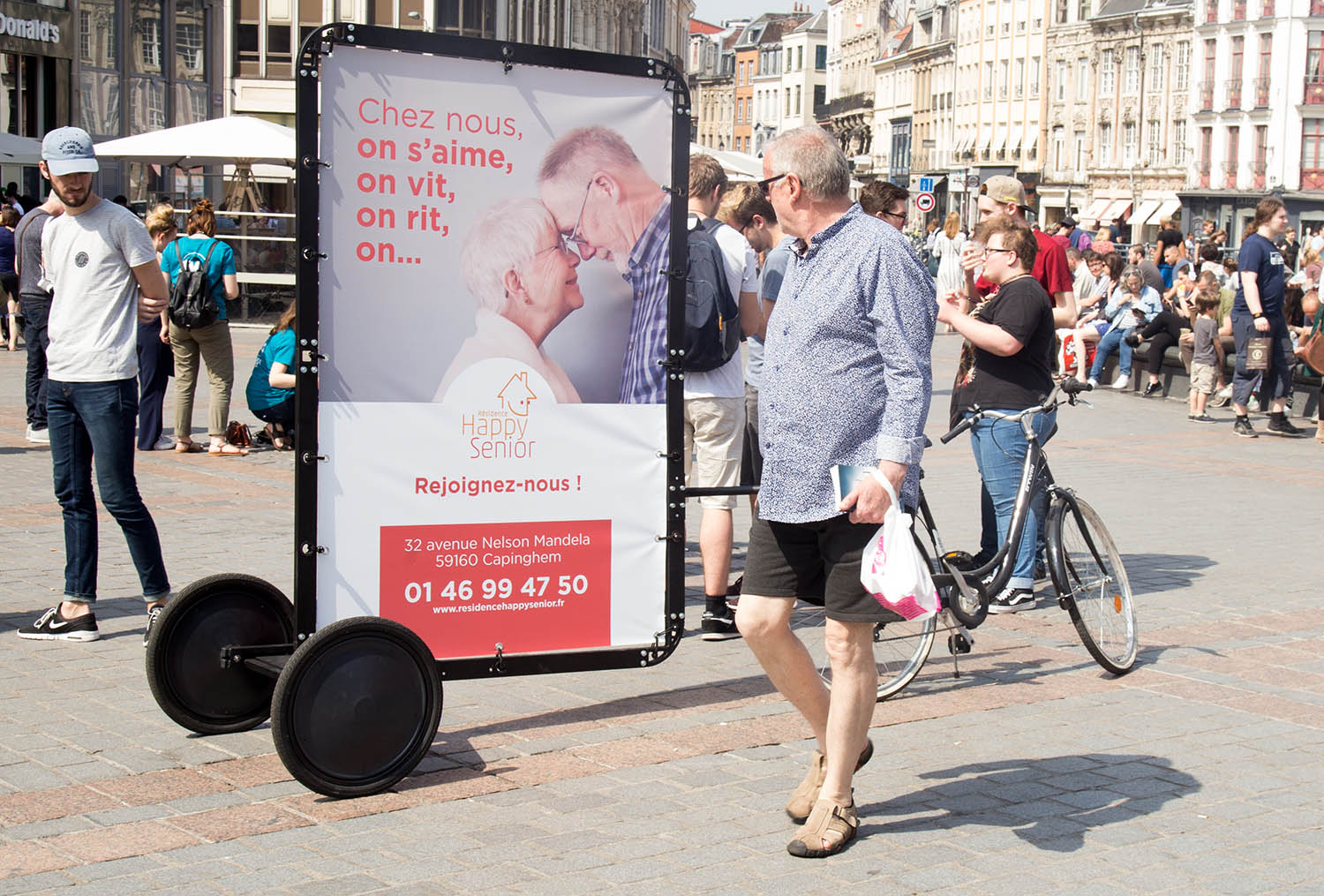 Advertising on mobile billboards is also 2.5 times more effective than on static billboards.
This begs the question:

Huge Reach
Mobile and bike billboards are, by design, able to cover large areas and therefore reach a huge number of people in the same shift – a feat that is difficult, if not impossible, to achieve with any other advertising media.
For example, digital ads can only be seen by people who access certain sites and newspaper campaigns will only reach those who read them.
In contrast, by moving around high traffic areas, mobile billboards are seen by everyone, exposing a continuous flux of people to their message.
This is also why bicycle billboards deliver the best ROI in the industry, having the lowest CPM of all OOH media.
Specific Targeting
A large reach, however, means little without proper targeting. This is where mobility, paired with timing, play a critical role. 
To maximize an ad's effectiveness and exposure, mobile billboards can target specific people at specific times, using a powerful mix of geolocation, demographics, peak times and behaviour as targeting strategy.
With mobile billboard advertising and, specifically, by advertising on bikes, you can target:
Commuters during rush hour

Specific socioeconomic areas

Specific neighourhoods

Passersby and tourists close to your point of sale

Large crowd gatherings such as events, concerts, conventions and conferences

Business hubs

Shopping hubs

Transport hubs
Visibility 
Unlike many other types of advertising media, mobile billboards cannot be muted, switched off or blocked. 
By their nature, they are not easily avoidable  – even people who choose not to look at them directly still see them.
And whether they are moving or static, they are bound to draw attention, especially when they're large and carry an eye-catching design.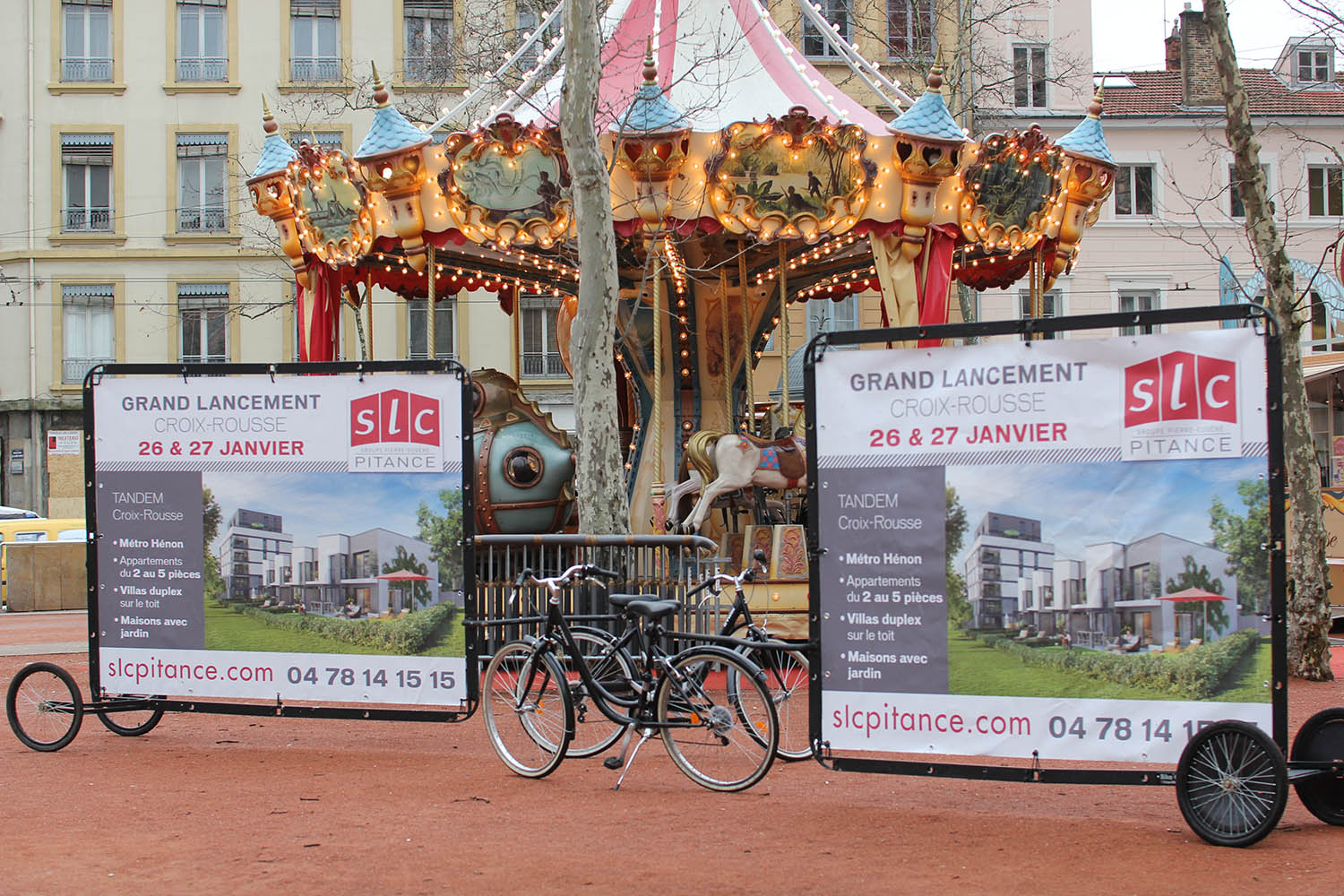 Bonus: Low CPM
There's no secret that effective advertising can be expensive  – especially when it comes to TV, print or radio. 
At the same time, for most businesses, opting for cost-effective advertising methods is common sense, even if that means sacrificing effectiveness for lower costs.
By advertising on bikes and on mobile billboards, both cost and ad effectiveness are simultaneously achieved. 
With the lowest CPM in the OOH industry, mobile billboard advertising has cheaper set-up and running prices than other media, which means the same budget can buy more exposure time, more views and, ultimately, more potential customers.
How to Create Successful Bike Advertising Campaigns
The main principle that governs all forms of advertising is this: in order to be effective, an ad must be seen. The corollary being: in order to be seen, an ad must stand out.
Master these, and you'll master the art of converting outdoor ads into indoor & online customers.
Here are the fundamentals of successful outdoor and bike advertising campaigns:



Be Creative
We spend so much time in front of screens now that outdoor advertisements have more power than they used to. But, to captivate and impress their viewers, they need visual appeal.
A boring design won't cause customers to come flooding in. So aim for eye-catching visuals, specific verbiage and engaging calls to action.
Be bold and keep it brief – it only takes 4 seconds for someone to notice and make up their mind about an ad before moving on.
As for the media, you can use vinyl banners with bright designs or LED billboard frames to really catch the attention of your target audience.
People are constantly seeing advertisements, and a uniquely designed mobile billboard is the best way to get their attention and convert it into sales.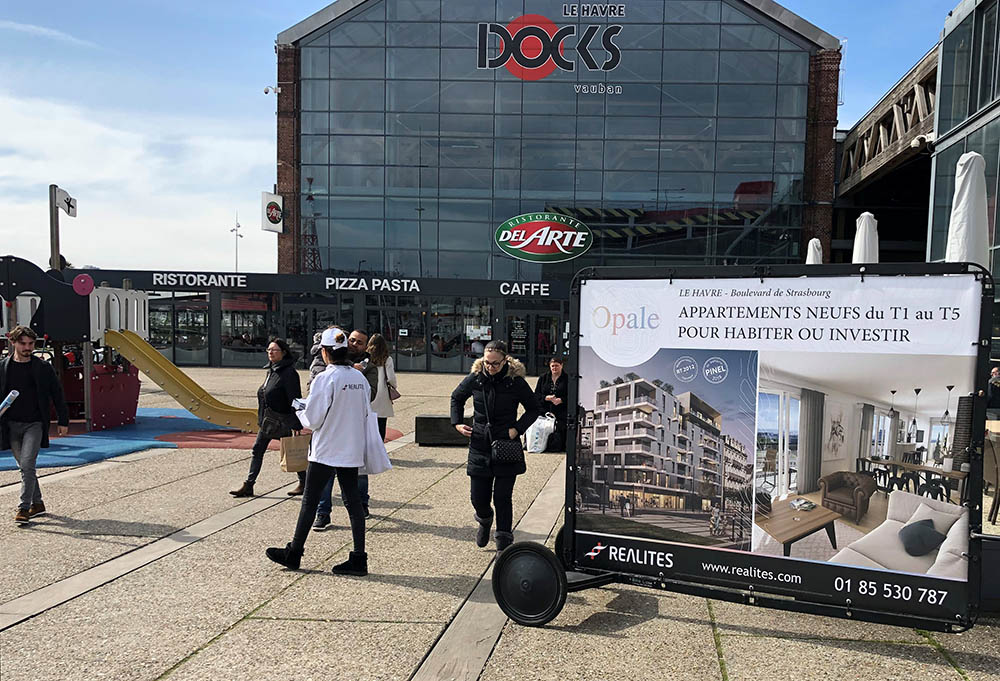 Go Big
When it comes to outdoor media, visibility is determined by three things: size, placement and lighting.
While not all mobile billboards come with LED lights, you still get to maximize visibility by opting for larger frames. 
For example, our AdBicy L Premium Kit comes with an extension set that transforms it into the largest bicycle billboard in the world, with an unmatched size of 2370 x 1770 mm!
But size is not the only thing you could go big with; the power to be seen and heard also lies in numbers.
Having a fleet of mobile billboards carry your message across an area is bound to make a much bigger impact than a single billboard campaign.
Capitalize on Peak Times
Being seen and heard also means being in the right place, at the right time. And this is something mobile & bike billboards do best.
With people spending most of their waking time away from home commuting, shopping or relaxing, it's extremely easy to deliver your ad on their turf.
Think about the commute and travel behaviors of your target audience and then map out your billboard advertising campaign accordingly.
High traffic areas, either car or pedestrian, and especially during rush hours, are the best in terms of reach and exposure. Just make sure to check your local municipal regulations first.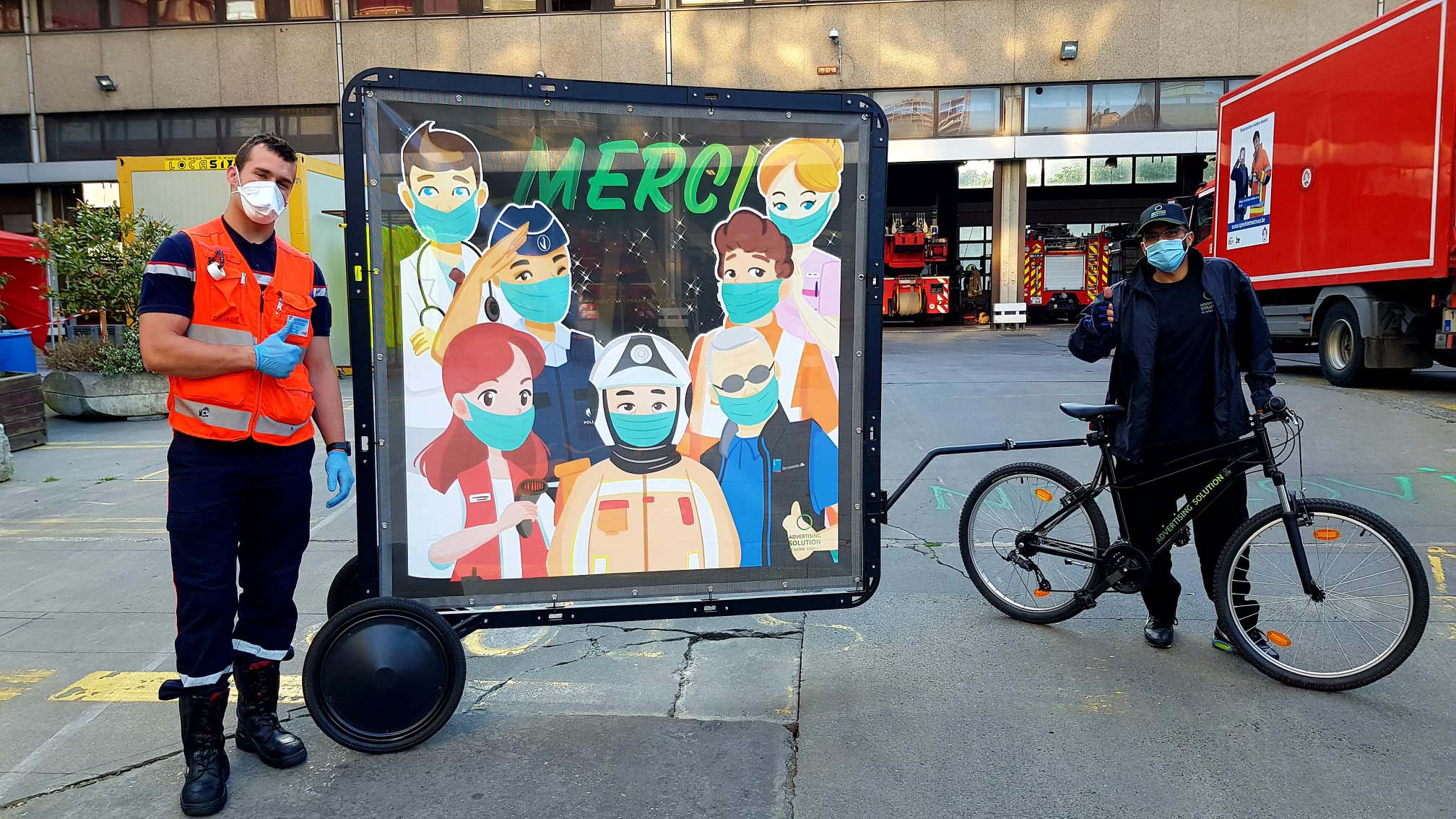 Add Human Touch
Truth be told, we, as consumers, have an ongoing love-hate relationship with advertising. On one hand, we hate the intrusiveness and the aggression which seem to characterize so many ads today. Not to mention the silly copy or the outrageous claims some of them make.
On the other, there are those (rare) moments when an ad manages to hit us right in the feels with the right story, the right emotion or the right offer.
Because we all fall for a good offer and that's the best love story advertising can incite to.
With mobile billboards though, that's easier said than done. How do you tell a story? How do you stir an emotion? There's no space or time for that.
The answer it's much simpler than that: use human connection.
Advertising on bikes enables you to harness the power of brand ambassadors. For this purpose, most companies that provide mobile billboard advertising services train their adbike riders in advance.
This way, they are able to go the extra mile from simply providing information to acting as a liaison between the brand and potential customers and helping connect the two.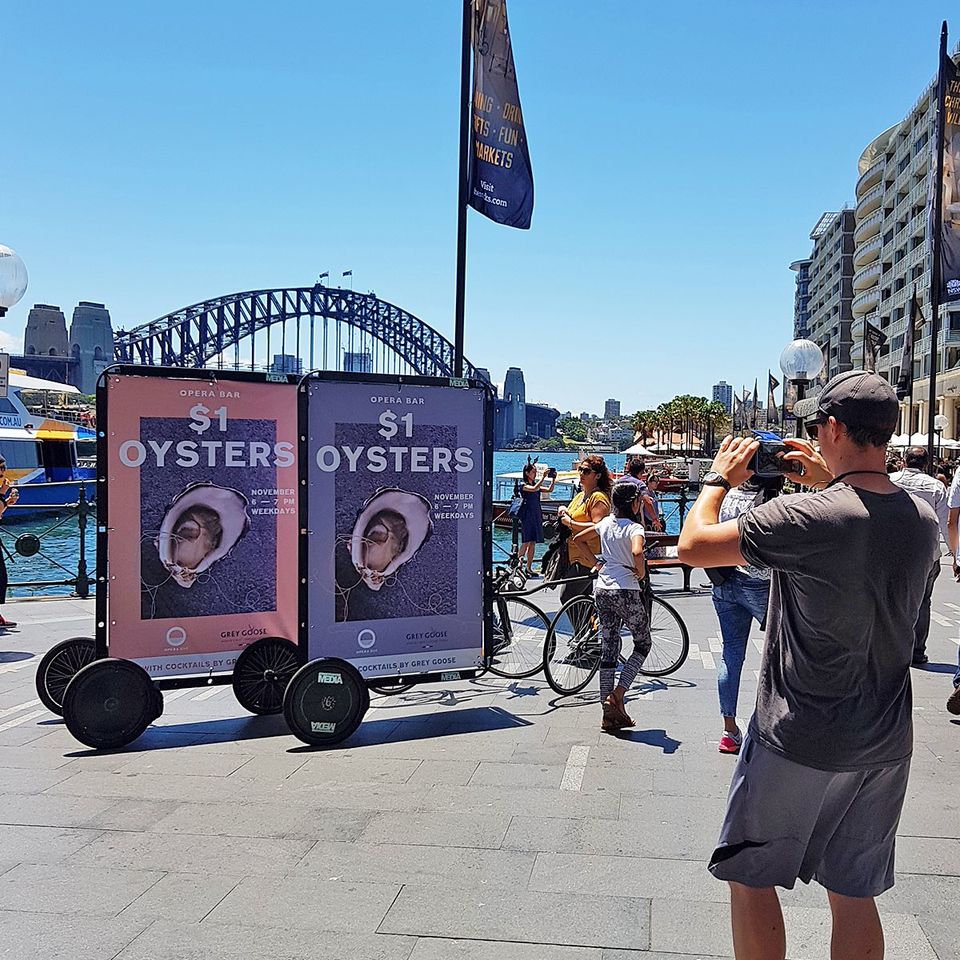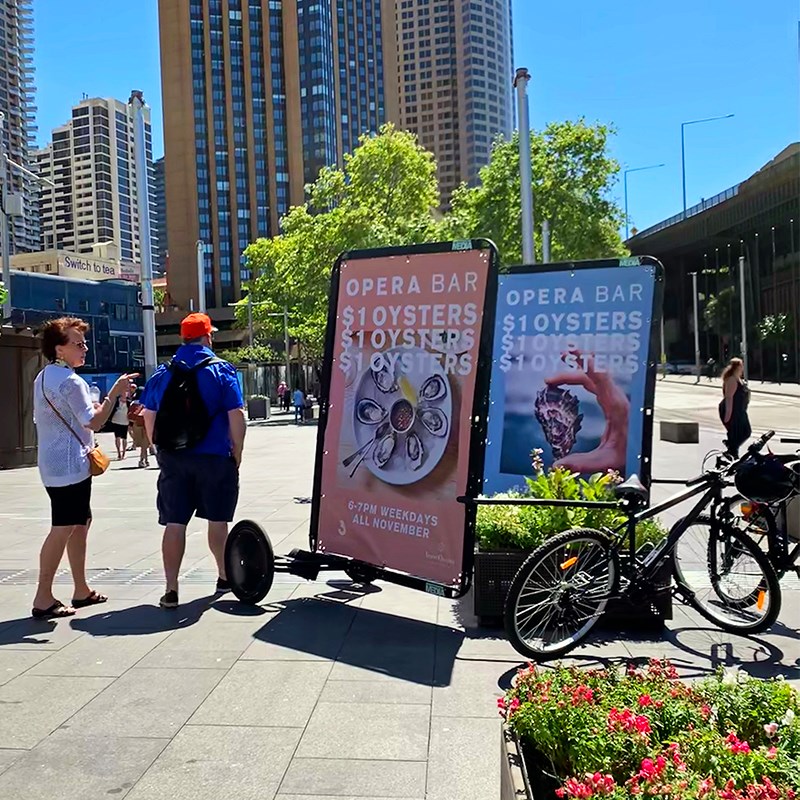 Make Unique Offers
Best and most effective adverts have at least one of these two elements: great value offers and great actionable copy. 
Whether your campaign is about sales, happy hour or a grand opening, make sure you come up with something unique that incites people to take action.
Unique offers are also a good way to measure campaign effectiveness, especially with outdoor media which, unlike digital ads, are more challenging to track.
Conclusion
From online ads to print and billboard campaigns, the world of advertising can be difficult to navigate. 
But, no matter the size of your business, if developing your brand and getting maximum exposure is of importance to you, then you should definitely consider advertising on mobile billboards.
With the ability to reach consumers on an acceptable, positive level, bike advertising can save you money, time and generate higher consumer response than many forms of in-home or digital advertising.

Thinking about advertising on bikes? Then take a look at our mobile and bike billboards for sale.