The Ultimate List of Resources for Starting a Street Food or a Mobile Food Cart Business
If you're considering starting your own street food or mobile food cart business but don't have the know-how, then you'll love this guide.
From how-to articles to podcasts and online communities of like-minded people, the guide lists everything you need in one place, so you'll spend less time on research and more focusing on your business plan.
Let's get started:


1. Street Food & Food Cart Business How-to Guides

When it comes to the how-to guides you can find online, you'll notice that almost all of them focus on food trucks and very few address the particularities of smaller scale platforms such as food carts, food stalls etc.
For this reason, we created our own series of Street Food How-to Guides using real, actionable information from our customers.
In this list, however, we also included all the articles created by third parties that we considered to be the best in terms of relevance and practicality. 

Street Food / General
With a world-wide presence that's stronger by the year, street food's appeal is growing not just with customers but also with entrepreneurs.
Whether you're considering a side hustle or a full-time commitment, these guides walk you through the fundamentals:

Guide 1: How to Start a Street Food Cart Business


An in-house comprehensive guide that covers everything there is to know about starting a street food business, complete with a cost breakdown and a business plan template. The information was provided by our customers and it's updated yearly

Guide 2: How to Start a Profitable Street Food Business in the UK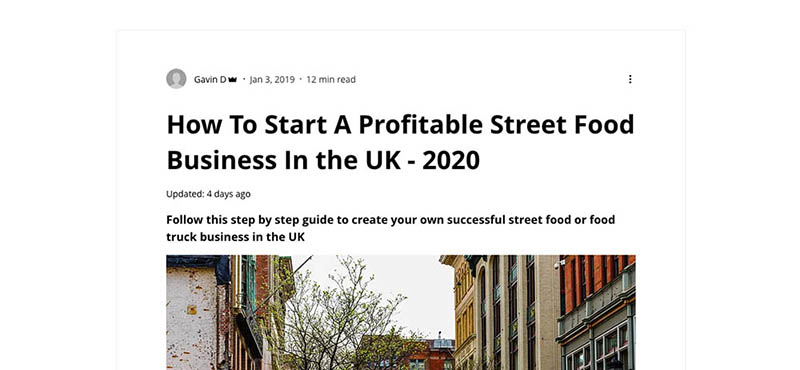 Thorough and straightforward, this is a great street food startup guide, especially for those living in the UK. 

Guide 3: How to Start a Street Food or Food Truck Business



Another complete guide  – it even has a few successful examples – and, although it's mainly about food trucks, the information provided can easily apply to smaller platforms.

Hot Dogs
Even with so many new street food contenders, these all-time classics continue to rule the popularity game, both in terms of customer preference, as well as profit margins. 
If you're planning to start a hot dog cart business, take a look at these guides first:

Guide 1: How to Start a Hot Dog Cart Business


The second in our Street Food installment, this guide provides in-depth information about all things hot dogs, from initial research to costs estimates provided by our food carts customers.
The guide is updated regularly to keep up with market trends

Guide 2: How to Start a Hot Dog Cart Business



A guide created by the whiz behind LearnHotDogs.com that lays down the steps involved in starting a hot dog business in a clear and concise manner.

Guide 3: Total Cost Breakdown For Hot Dog Cart Business Startups
This article runs you through the start-up and the monthly operational costs of a hot dog cart business. Bear in mind it was last updated in 2016; nevertheless, it should at least give you an idea of the outlay involved.

Ice Cream
Although a very popular street food menu item – and very lucrative, dare we say – there aren't too many articles out there detailing the know-how of a successful mobile ice cream business. Here are the best two:


Guide 1: How to Start an Ice Cream Cart Business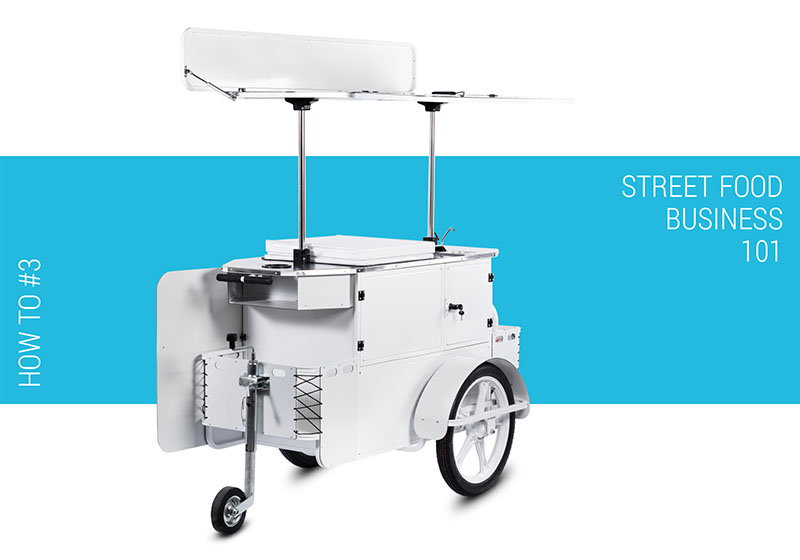 Ice cream may be a universally loved treat but making a business out of it has its own unique challenges. Our guide covers both the steps involved as well as the pros and cons that come with the territory.

Guide 2: How To Start An Ice Cream Truck Business (USA)
We recommend this guide  – even though it's geared towards ice cream trucks – because it does a very good job of detailing the registration process, most of which apply to ice cream carts as well.

Coffee
Coffee is an all-season winner providing great profit margins and countless trading opportunities. But how do you turn it into a successful business? The guides below explain the steps:

Guide 1: How to Start a Coffee Cart Business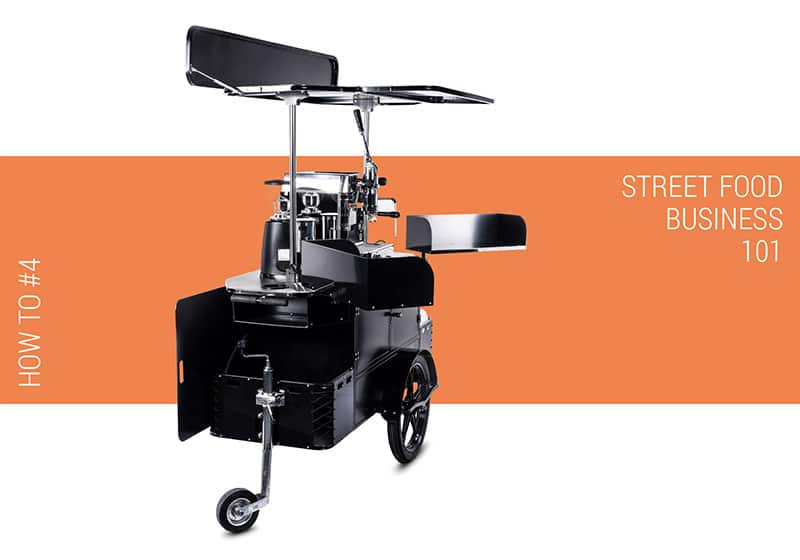 Our in-house guide takes you through all the stages of starting your mobile coffee cart business, from idea research to planning for success. To this date, it's the most detailed and accurate guide out there and new information is added to it regularly.

Guide 2: How To Start A Mobile Coffee Cart (USA)
As with their previous guide, Truic does a great job in outlining the registration steps for a coffee cart business, which is especially useful for first-time entrepreneurs.


2. Food Carts Buying Guide

As food carts manufacturers, we know first hand that finding a cart that fully meets your requirements is the second most time consuming aspect of setting up your business. 
A few fundamental pointers are necessary, especially for first-time buyers who need to make sure that their chosen platform is legally compliant as well as suitable for day to day operations.
And since there's no other buying guide out there concerning food carts, we challenged ourselves to create the most in-depth one to date:
How to Choose the Right Food Cart for Your Business


3. Street Food & Food Cart Business Legal Requirements

Navigating the complex process of getting licensed and approved as a street food vendor is, hands down, the first most daunting and time consuming step of a street food business.
Since regulations differ not only from country to country but also from county to county and city to city, creating a complete guide would be pretty much impossible.
However, this doesn't mean we can't at least point you in the right direction by listing the universal concerns that need to be addressed.


1. Food Cart Business Laws – Europe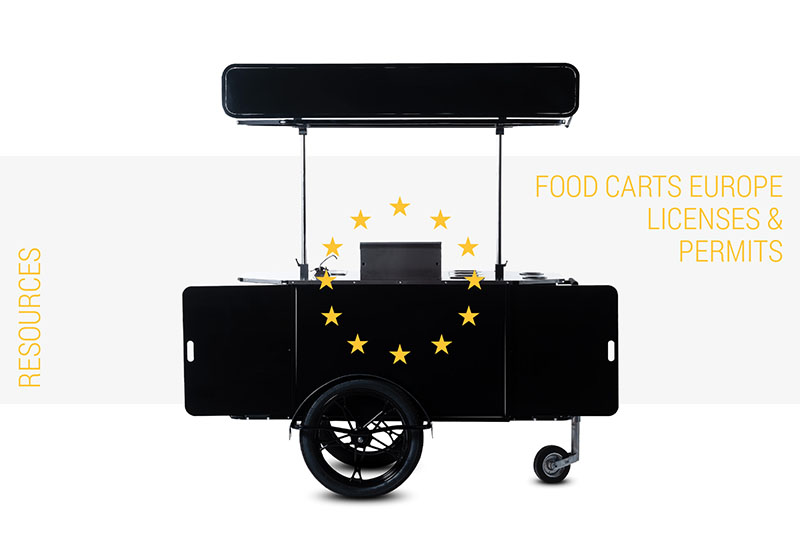 For many European countries, the steps of starting a street food business, be it a mobile cart, a stall or a truck, are pretty similar, albeit in a different order and, certainly, with specific nuances.
Here are the registration and licensing requirements for the following countries:
Belgium, Denmark, France, Italy, Netherlands & UK

2. Food Cart Business Laws – USA

In the USA, there are as many differences in terms of laws and licensing requirements as there are cities. Even more so, while some regions are quite open and permissive in regards to street food – like Portland, for example – others, such as Georgia or NY, are overly regulated and restrictive. 
Generally speaking, the best way to start would be by:
checking the

U.S. Small Business Administration's website

;

getting in touch with the local department of health, to find out what specific permits you need;

contacting the city hall or the county clerk's office for business registration info;

consulting the local tax office for tax purposes.



4. Street Food & Food Cart Business Plan Templates

The very first step of starting your mobile food cart business should be writing your business plan. 
This will serve as a roadmap to success as you embark on your entrepreneurial journey as well as help you face any challenges in a constructive, practical way.
As a rule of the thumb, the more detailed your business plan, the better the chance of developing a successful business. 
By the end of it, you should have a pretty clear picture of each of your business's aspects such as trading location(s), target market, estimated costs, marketing, projected sales etc. 

Important, right? Here are several templates we recommend:

Template 1: Food Truck Business Template complete with example
Template 2: Food Truck Business Template 2 complete with step-by-step explanations
Template 3: US SBA's Business plan template (generic)


5. Street Food & Food Cart Business Websites

While there aren't many websites out there focusing exclusively on the ins and outs of street food, food cart or food truck businesses, the ones that do exist are treasure troves of knowledge created by experienced industry insiders, such as:


1. Street Food Central (UK)



Created by Gavin, the owner of a mobile juice bar, this website is a complete online resource for those interested in the mobile catering industry. It has many detailed articles, from how-to guides and menu ideas to marketing tips, and even though it's catered towards UK businesses, most of the topics addressed have universal applicability.


2. StreetFood.org.uk (UK)



StreetFood.org is powered by the Nationwide Caterers Association (NCASS), UK's trade association for mobile caterers and street food traders. Although it doesn't feature a lot of in-depth content, the site does offer some valuable pointers to starting entrepreneurs and, most importantly, business support – provided you join NCASS, that is.


3. LearnHotDogs.com (USA/Global)
When Ben Wilson lost everything, he turned to hot dogs for a living. Shortly after, he became so successful at it that he grew his business into an empire. LearnHotDogs.com documents his years of experience in the trade, providing how-to guides, clever business tips and free resources such as online webinars.


4. FoodTruckr (USA/Global)



According to its founders, FoodTruckr is intended as a one-stop destination that provides all the resources needed to start and grow a food truck business. The website is updated regularly with truly useful content and has its own popular podcast titled The FoodTruckr School.


5. Food Truck Empire's Blog (USA/Global)
The Food Truck Empire was initially started with the purpose to document the process of opening a food truck business and build some buzz through the process. Seven years later, the site has developed into a valuable hub that supports all forms of food entrepreneurship, featuring an active blog, a podcast and even a marketplace.


6. Street Food & Food Cart Business Useful Articles


The increasing popularity of mobile catering businesses and street food in general is well-reflected by the media, whose interest towards the subject has been growing steadily in the last few years. 
Mastering the ropes of a street food business has been covered by online publications such as Forbes and Entrepreneur, with the latter dedicating a whole series to it titled the Startup Kit.
The best articles so far are:


1. Entrepreneur's series The Startup Kit
The Startup Kit covers several fundamental aspects of owning and operating a mobile street food business, from outlay and licensing, to inventory and marketing. While the series itself is quite informative, it's actually a summary of Entrepreneur's book on the same topic – Start Your Own Food Truck Business – included further down this guide.

2. Forbes
Five Steps To Revving Up Your Mobile Food Business (Even During A Pandemic)


7. Street Food, Food Trucks & Food Cart Business Books

There's no better way of starting a business than doing it by the book. And, luckily, thanks to a good number of entrepreneurs that turned their experience into written knowledge, there are plenty of good books when it comes to street food know-how.
While this by no means the full list, below you will find the most appreciated ones, based on reader recommendations and reviews:


Book 1: Start Your Own Food Truck Business (Second Edition): Cart, Trailer, Kiosk, Standard and Gourmet Trucks, Mobile Catering, Bustaurant (2015)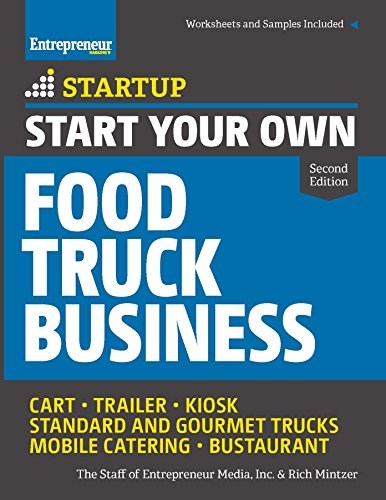 The team of Entrepreneur Media has teamed up with Richard Mintzer to create a business handbook applicable to six mobile food options: food carts, concession trailers, kiosks, standard and gourmet trucks, mobile catering, and bustaurants.
The book covers all the details behind starting and running a successful mobile food business, from choosing the right vehicle to franchising, plus gain recipes, shopping lists, favorite equipment buys and more from practicing street food entrepreneurs.


Book 2: Starting a Part-time Food Business: Everything You Need to Know to Turn Your Love for Food Into a Successful Business Without Necessarily Quitting Your Day Job (2011)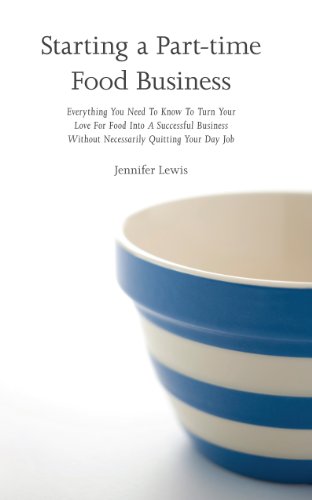 Written by a culinary professional and part-time entrepreneur, this book might be the perfect read for those of you who want to start a side business while still working a full time job.


Book 3: Food On Wheels: The Complete Guide To Starting A Food Truck, Food Cart, Or Other Mobile Food Business (2011)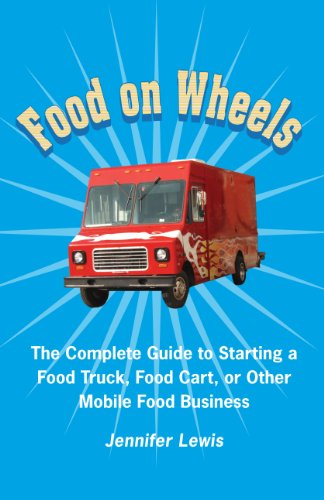 Coming from the same author as our first recommendation, this book goes into greater detail concerning the fundamental aspects of starting and maintaining a successful mobile food business. It also provides detailed worksheets that clearly walk you through the financial side of the business and comprehensive lists of resources and business licensing offices broken down by state and territory.


Book 4: Delicious Freedom: How to Take Your Street Food Business from Dream to Reality (2021)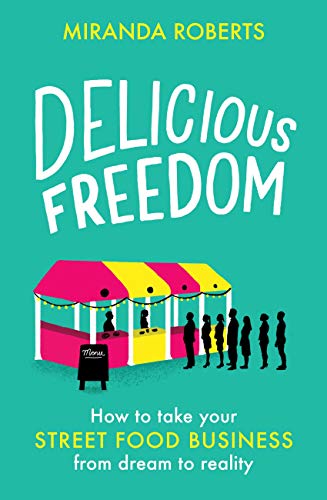 Delicious Freedom is a pretty straightforward guide that provides practical advice from what you will sell to where you will do it and to whom, complete with stories from those who have tried and succeeded as well as those who have tried and failed.


Book 5: The Food Truck Handbook: Start, Grow, and Succeed in the Mobile Food Business (2012)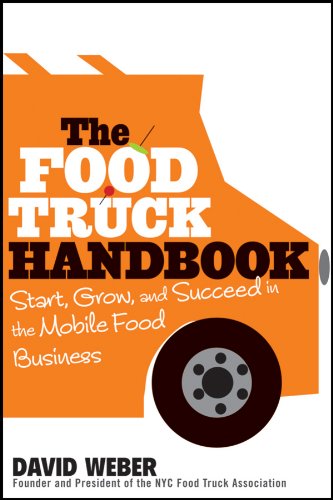 Written by David Weber, the founder and president of the NYC Food Truck Association (NYCFTA), The Food Truck Handbook is, to this date, one of the best and most complete guides out there.
The book offers practical, step-by-step guidance to developing a successful food truck business from concept to equipment maintenance, while cutting through the hype and providing an accurate depiction of the street food lifestyle.
Alternate Reads
How To Start A Food Truck Business in 2020: How To Turn Your Passion Into A Profitable Business In 2020 Step By Step (2020)
Running a Food Truck For Dummies
Food Truck Business Guide for Beginners: Simple Strategic Plan to Build and Maintain a Successful Mobile Business
Melvin Lee – Hot Dog Cart Business – How to Get Started (2013)
Hot Dogs Saved My Life – The Most Comprehensive Guide On The Market (2011)



Turning Passion for Food into a Thriving Business

Book 1: Cooking Up a Business: Lessons from Food Lovers Who Turned Their Passion into a Career – and How You Can, Too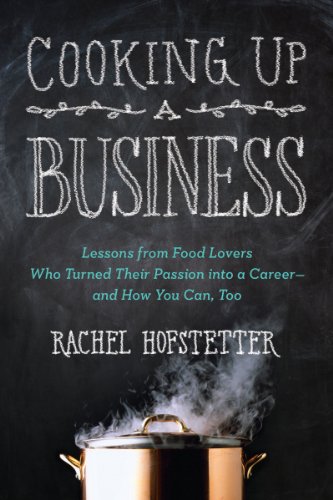 Cooking Up a Business was written for aspiring entrepreneurs who want to turn their passion for food into a business. It provides practical insights and guidance on the journey, alongside interviews with nationally known food entrepreneurs such as Popchips, Vosges Haut-Chocolat, Hint Water, Mary's Gone Crackers, Cameron Hughes Wine, and many more.

Book 2: Good Food, Great Business: How to Take Your Artisan Food Idea from Concept to Marketplace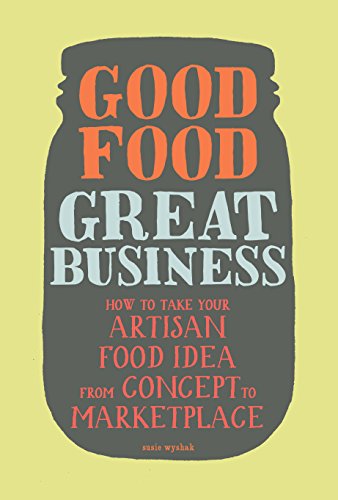 Whether your goal is selling a single product online or developing a line of gourmet foods to be sold in grocery chains, Good Food, Great Business walks you through the process of becoming a food entrepreneur—from concept to production to sales to marketing.


8. Street Food & Food Cart Business Social Media Communities

Reddit Communities
Known for its wide variety of communities for every topic under the sun, Reddit lives up to its name when it also comes to street food. Here are the two most active street food subreddits:


1. Food Trucks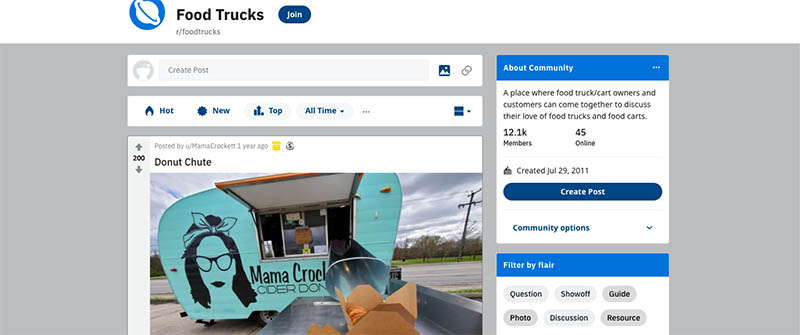 Despite the name, this community is an online meeting place for owners of all types of mobile food platforms. The sub is brimming with valuable insights frequently exchanged between members, from menu ideas and branding advice to equipment recommendations and business management tips.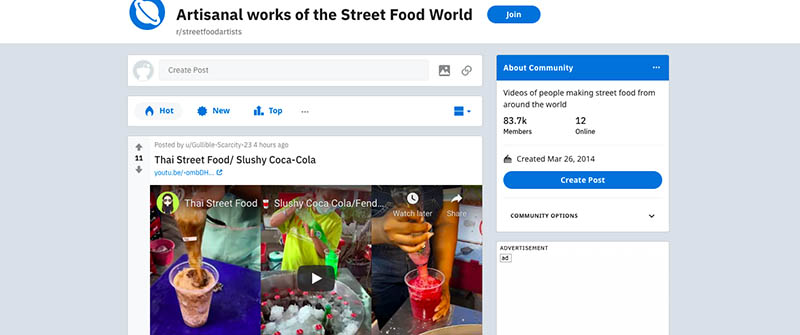 More than an inspiration hub than a know-how one, this community focuses on sharing street food videos from around the world – a great starting place if you're looking for ideas, recipes or to spice up your street food game.

Facebook Groups
Part marketplace, part discussion hubs, these street food groups have it all: you can seek and offer advice, buy and sell equipment, offer jobs, check organiser credibility etc.


Europe
1. Street food / Food Trucks / Traders / Venders / Equipment U.K
2. Street Food Traders – Mobile Caterers – Staff – STREET FOOD COLLECTIVE
USA / Global
1. Food Carts, Food Trailers, Food Trucks, Food Equipment for Sale
3. All About Food Trucks and Trailers


9. Street Food & Food Cart Business Podcasts
 
Podcasts are a fun way of consuming knowledge, especially when it comes from industry insiders and seasoned veterans. 
Fortunately, there are some great podcasts out there when it comes to street food. And even though none of them strictly refer to food carts, they are nonetheless full of know-how, ideas and useful tips that could easily be applied to a mobile food cart business.
Here are our favourites:


1. KERB On the Inside (UK)



Raw and honest, KERB on the inside brings into discussion the day-to-day realities of the British street food industry & community, with topics ranging from entrepreneurship to racial equity and the corona crisis. 
The podcast is hosted by Petra Barran, the founder of KERB – an UK street food incubator and accelerator.


2. Eat Lah



Hosted by the team behind Eat Lah – a Malaysian street food business in London, UK, this podcast shares the journeys and the lessons learnt along the way by British street food entrepreneurs such as Michelin star chef Elizabeth Haigh, Matt from Plant Power PizzA, Alex – the founder of Ugly Duck street food and The Ugly Duck supper club, and many, many more.


3. Food Truck Empire's podcast



The Food Truck Empire's podcast is one of the first of its kind. Started in 2013 as a series of interviews with successful street food business owners, the podcast now explores a wide variety of food-related topics like, for example, social media marketing for restaurants, business growth tips, new product ideas etc.





Started by Ariel D. Smith M.Ed, a Ph.D. student studying the food truck movement in the United States, the Food Truck Scholar podcast is a weekly discussion about topics such as food truck civic engagement and activism, ordinances and restrictions, as well as cultural and economic implications of the food truck industry.


5. Truck Tales by Food Truck Ventures



Ever wondered what it's like to run a food truck? This podcast answers this question, and many others, in a series of interviews with business owners and industry professionals. Truck Tales is hosted by the team formerly known as Food Truck Festivals of America (FTFA), the only touring food truck/craft beer festival production company in US.


From the Archive

Additional Listen
10. Street Food & Food Cart Business YouTube Videos

1. LearnHotDog's YouTube Channel
Ben's channel is dedicated exclusively to starting and developing a successful hot dog cart business. His videos cover pretty much everything there is to know on the subject, such as business planning, legal aspects, cart setup, how to deal with competition, and so on.
Dave is a young entrepreneur from the UK, passionate about business, street food, and these two combined. His videos focus on street food businesses and entrepreneurship, providing a modern, hands-on approach to achieving success.

3.UpFlip's Food Truck Series Part 1 & Part 2
Coming from UpFlip, an YouTube channel for business owners and entrepreneurs, this two part series features Kyle Gourlie, owner of the Vet Chef, voted the Best Food Truck in Western Washington in 2017. During the interview, he talks about how much his food truck cost, how he's built a successful food truck business, and his plans for the future.
This channel is the brainchild of Damian Roberti, the founder and owner of The Brittle Box Candy Company. It features over 700 hundred videos all about starting, growing, and helping food businesses succeed, including topics such as how to start and grow a mobile street food business, how to sell food at farmers markets and events, and how to market food products online.



The Food Truck Bible – The A-Z On How To Win On The Street!
Food Truck Business Plan – Template, Sample, Example & Excel
Start Your Own Food Truck – Leave the Corporate World Behind

Additional Course (UK only)

UK

1. NCASS
2. NMTF

France


Belgium

Belgian Food Truck Association

USA

1. Chicago Street Vendors Association
2. National Food Truck Association

Canada

1. L'association Des Restaurateurs De Rue Du Québec
2. StreetFood Vancouver Society


This is a free online ordering system for food truck owners and street food enthusiasts. The app is available for iOS as well as Android users.