Celebrities Who Manned Food Trucks

Celebrity sightings are not altogether uncommon. After all, like us they step out to buy things like groceries and go to restaurants similar to any normal person.
What is not particular common, however, is spotting your favorite celeb serving you food from a food cart. Nonetheless, this isn't a rare as you may think.
Rachael Ray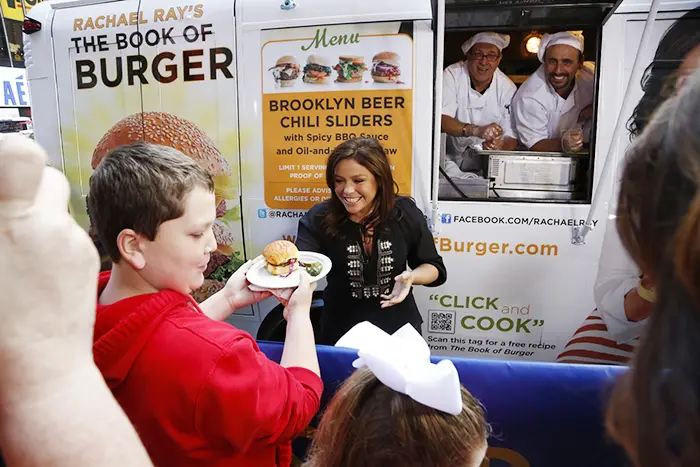 Rachael Ray launched not just one, but two food trucks. The more recent one was apparently for dogs. The Food Network reported that she opened a food truck that caters to canines to promote her dog food company Nutrish Delish.
The first one she opened was more conventional. The pop-up food truck was called The Book of Burger, which is also the same title of the book she released at the same time. The food truck was actually a promotional stunt to promote the cookbook.


Jeff Goldblum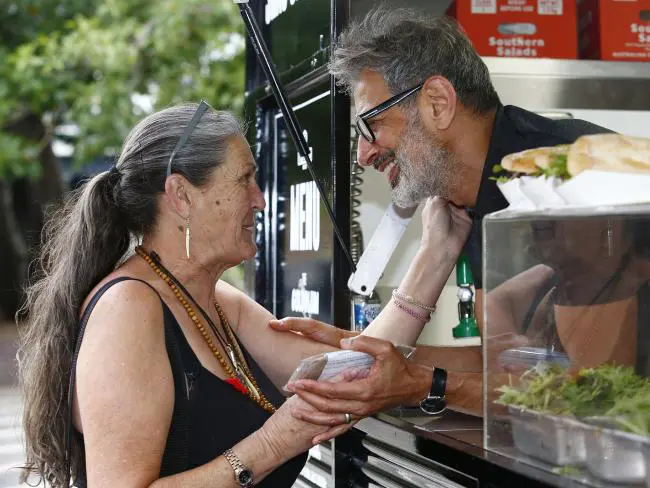 Image credit: Daily Telegraph

Jeff Goldblum surprised Australian fans when he distributed free hotdogs from a food truck, appropriately named Chef Goldblum's Jazzy Snags in a Sydney neighborhood last April.
The Daily Telegraph reported that the actor remained secretive about why he was in town distributing hotdogs at the time, although he did tease that he did it as part of research for a project he is involved in.
The celebrity sighting came barely a day after it was announced that the actor would be reprising his role as Dr. Ian Malcolm for the sequel of Jurassic World, a movie that became so popular it not only led to the development of numerous follow up films, but also various spin-offs, including a digital Jurassic World slot title which has helped bring the franchise to new demographics. Fans have since surmised that his food truck appearance was strategically aligned with the news of him returning to the franchise.


Derek Jeter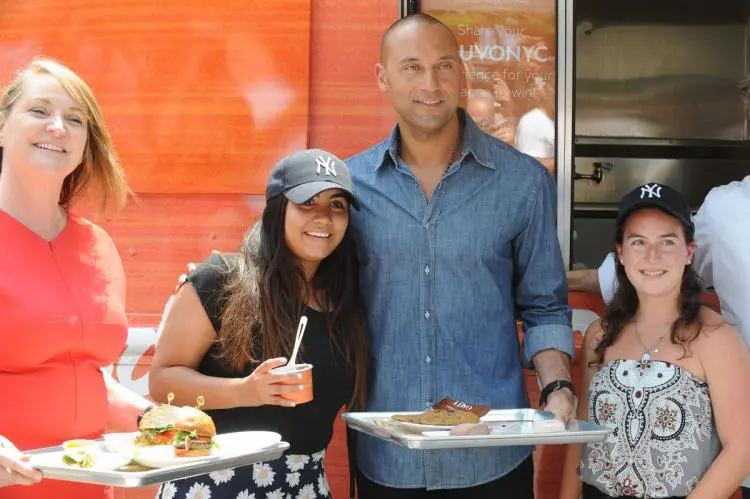 Image credit: NY Daily News

Former New York Yankees' shortstop Derek Jeter served healthy food to fans via the Luvo food trucks, which he is a brand endorser for. In an interview with NY Daily News, the athlete revealed that when he was younger, he wasn't very conscious about what he ate, and was more likely to eat junk food over anything else. Times have changed, as he is now committed to healthy eating.
Gwyneth Paltrow
Technically, Gwyneth Paltrow didn't man a food cart or truck. However, InStyle did report that the actress and entrepreneur hosted a food truck event in Los Angeles last December. The event, titled Road to Table: A Culinary Experience, was a collaboration between her company Goop, and Cadillac, which brought foodies together to try out the various meals offered by a variety of local food trucks.