These Mobile Pop Up Shops Can Transform Your Business Overnight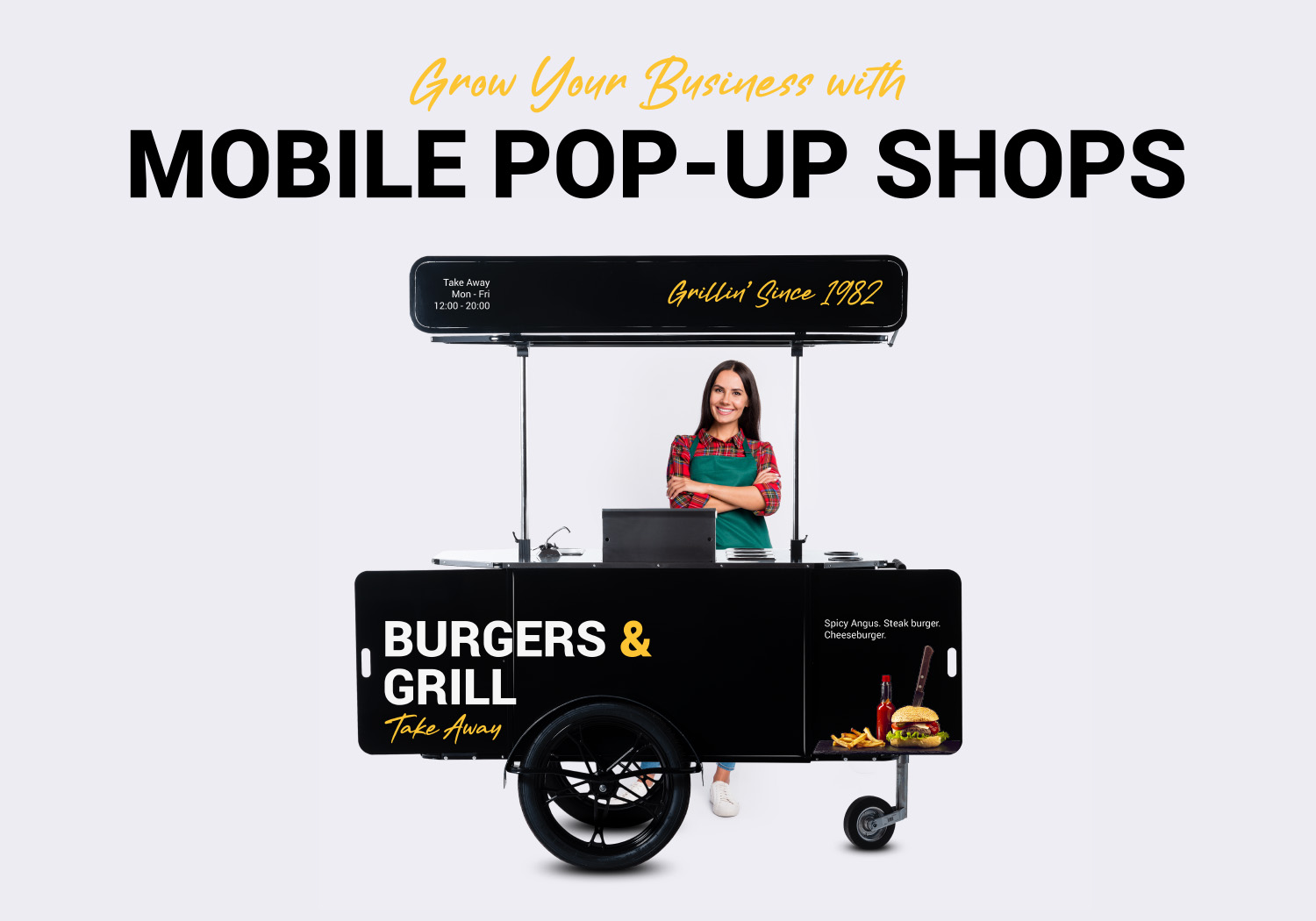 Whether your business is eCommerce, brick-and-mortar, or a mixture of these two, mobile pop-up shops are a practical way to bring extra value to it, from increased brand awareness to increased sales.
Read on to find out how.

Even though online sales surged all over the world, swiftly triggered by the pandemic, most people still prefer to test and buy products or services in-person. Let's face it, ordering something that doesn't match our expectations – or its marketing claims – is still an all-too-common occurrence when it comes to online shopping.
For businesses, the sudden shift to eCommerce has brought an ever bigger challenge: rising advertising costs and rapidly evolving competition.
Here's where pop-up shops come in. Mobile and versatile, they can bridge the gap between the online and the offline, and between brands and customer acquisition in a very practical, fast, and cost-effective manner.
So what are mobile pop-up shops? Coming in a variety of shapes and sizes, they are essentially  mobile platforms that can be used for marketing and sales activities in locations such as urban pedestrian areas, recreation or business parks, commercial venues, festivals & events etc.
By employing mobile pop-up shops brands can showcase their products or services, creating hands-on, immersive experiences through which potential customers get to discover, test, and purchase them.
When mobile pop up shops are used as part of a smart retail marketing strategy, companies and brands can interact with people in new, non-traditional environments, helping them grow brand awareness, gain new customers, and drive sales.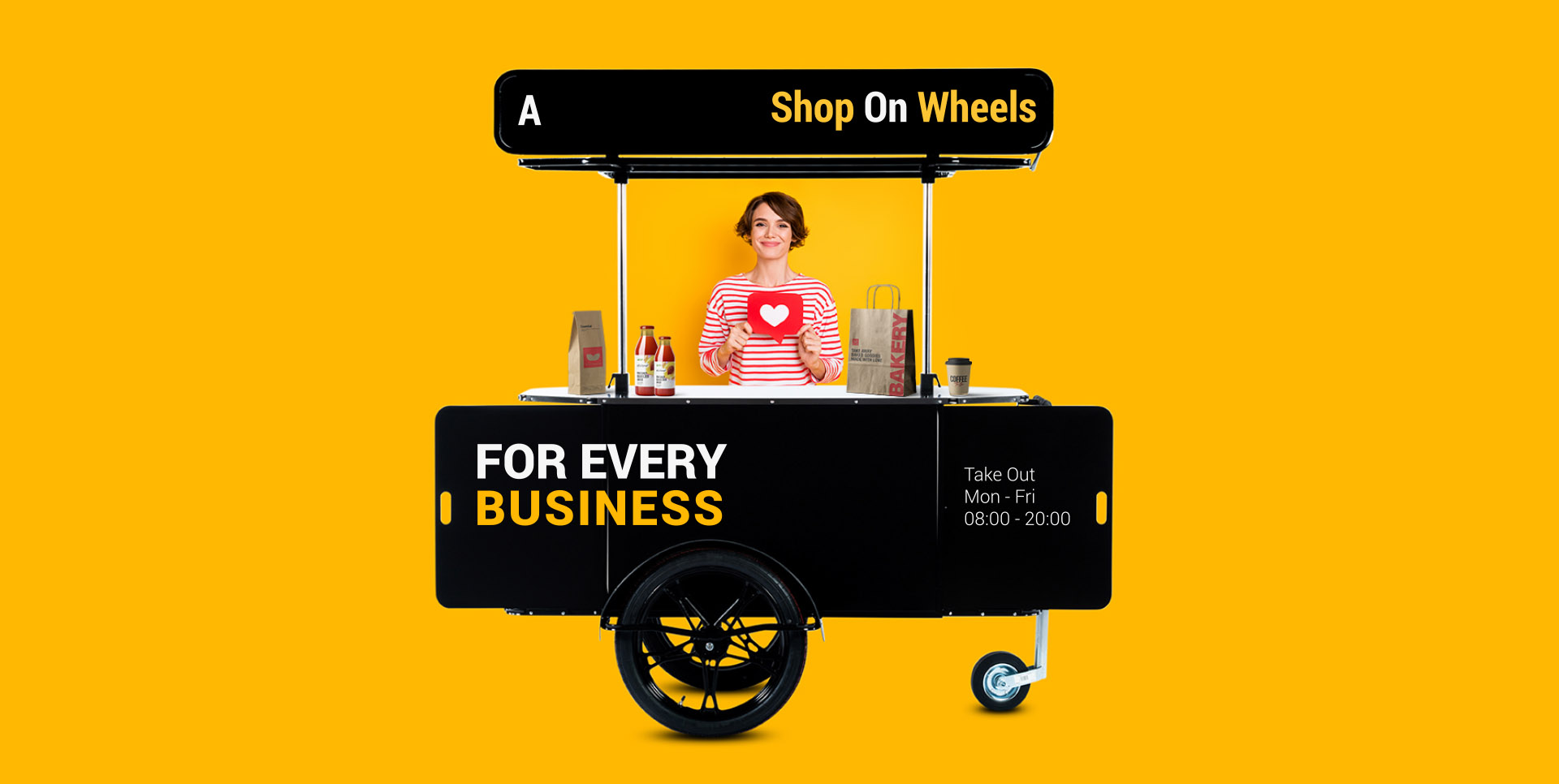 Types of Mobile Pop Up Shops

From small to big, here are the most commonly used pop up shops:
1. Pop Up Food & Retail Carts
Food and retail carts are the smallest, easiest to use, and most cost-effective out of the bunch. Thanks to their size and maneuverability, they can be used practically anywhere  – as long as local regulations allow it – both outdoors or indoors, as mobile push carts or as temporary retail islands. 
They can also be equipped and branded according to one's needs, making them suitable for a wide variety of applications, from out-of-the-box guerilla marketing to product sampling and food vending.
See our mobile pop-up shops for sale here.
2. Pop Up Kiosks
Slightly larger than the firsts but also not as mobile, pop-up kiosks are stands or booths set up in a temporary location for a predefined period of time.
They provide more space for merchandise and promotional materials than a cart but they are also more complex to set up, dismantle, and move between locations.
3. Vans & Other Vehicles
Vans, trailers, and trucks are the most popular platforms when it comes to street food, but not so much when it comes to other products, mainly because of the high costs involved in acquiring, fitting and operating them.
Best Mobile Pop Up Shops Uses
1. Experiential Marketing Campaigns



2. Guerrilla Marketing Campaigns



Mobile Pop Up Shops Tips & Tricks
Since a mobile pop-up shop is, well, mobile, this means you can easily cover more than one location per day, allowing you to create an itinerary and schedule that coincide with increases in foot traffic (ie, morning and afternoon).
Think strategically and set up your mobile pop-up shop where there's a higher chance to find your target customers. For example, let's say you have a café that you want to promote. By using a pop-up coffee shop, you can park it near your competitors and introduce their customers to your brand, or you can take it directly where their customers come from: office buildings, commercial venues etc.

Take advantage of seasonal trends and local events. Holiday shopping, concerts, and sport events are all great opportunities for promoting your business and increasing sales.

Your mobile pop-up shop shouldn't just be a smaller replica of your physical location. Think of ways to make it stand out and to entice people to try what you've got to offer.

Be proactive and don't just expect customers to simply come to you. Leverage social media and promote your mobile pop-up shop beforehand, to build anticipation and excitement.