Get Yours in Just 7 Days!
• Fully equipped
• 2 traction modes
• Outdoor & indoor use
• Custom graphics & colors
• Optional features available
• Made in EU
• 2 years warranty
• Worldwide delivery!
• Fully equipped
• 2 traction modes
• Outdoor & indoor use
• Custom graphics & colors
• Optional features available
• Made in EU
• 2 years warranty
• Worldwide delivery!
A Gelato Shop On Wheels
Fully Equipped. Fully Functional. Ready to Use.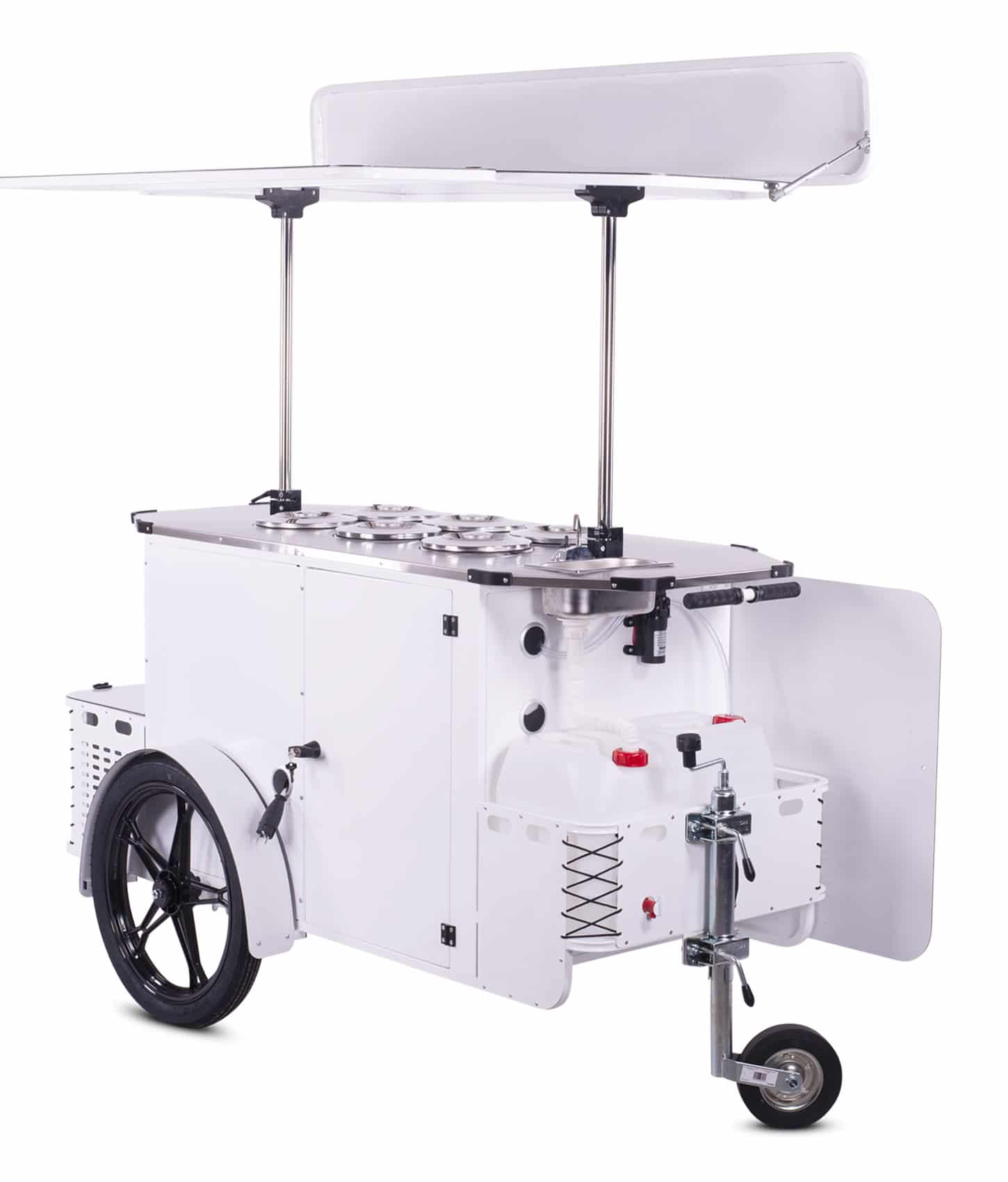 2
Robust steel covered body
4
3rd wheel for stationary mode
Ultra Mobility All Around the City
Easy to Maneuver. Easy to Tow.
POZZETTI GELATO CART – PUSH CART MODE
POZZETTI GELATO CART – BIKE TRAILER MODE
Your Pozzetti Gelato Cart comes with:
Included Features - Click to Expand
• Basic Food Cart body
• Robust frame – up to 150kg load
• Folding roof
• Stainless steel food grade countertop
• Sink kit (sink, tap, 20L fresh & waste water tanks)
• Pozzetti Dolce Vita system with 6×6 7L carapinas (220V)
• 2 exterior storage compartments
• 220V interior socket (to connect the cart to a power outlet)
• Push cart handlebar
• Saddle hitch for bike towing
• Bicycle towing system
• Electrostatic paint
By design, the Pozzetti Gelato Cart's countertop layout and interior storage are optimized for an efficient and intuitive workflow.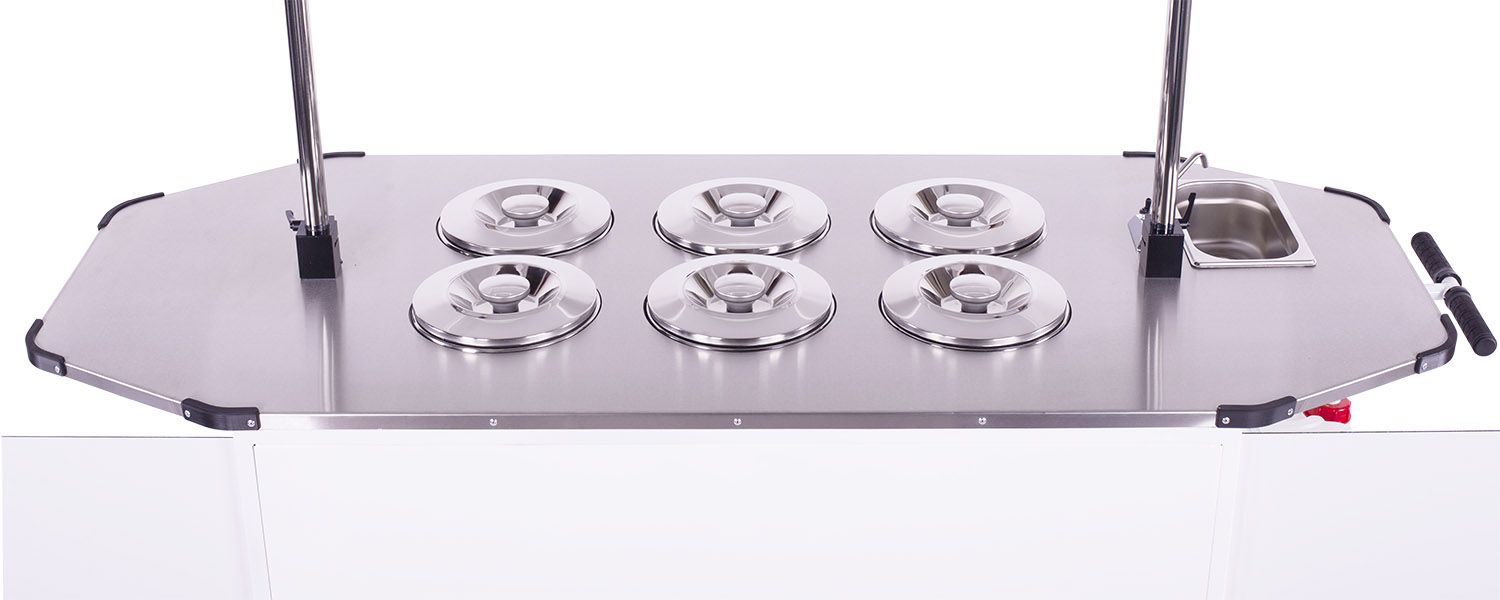 1
Food-grade stainless steel countertop
Here are all the answers to our most Frequently Asked Questions:
General Questions - Click to Expand
1. What is the lifetime of a Bizz On Wheels cart? 
Our carts are designed to last for a minimum of 5 years of daily use.


2. What is the Pozzetti Gelato Cart made of?
The Pozzetti Gelato Cart is made of powder coated steel; its countertop is made of food-grade stainless steel.


3. What is the total weight of the Gelato Cart?
The cart's total weight, including the equipment (Pozzetti machine with 6 carapinas), is 255kg


4. What is the storage capacity of the cart?
Due to the size and volume of the gelato machine , which takes up all the interior space, the Pozzetti Gelato Cart has no storage space available.

5. Is it possible to get more storage space?
To supplement the existing storage space, you could opt for the XL version or for the gelato bike with integrated electric trike and optional storage trailer.

6. Can the Pozzetti Gelato cart be used outdoors as well as indoors?
Yes, the cart is suitable for both outdoor and indoor use, however, it needs to be connected to a 220V power outlet at all times, in both situations.


7. Is the cart suitable for the US market & regulations?
The Pozzetti Carts destined for our US customers come with 110 – 220V inverters that enable the equipment to be connected to standard US power outlets.

8. What are the traction modes available?
A. Push Cart mode: available for all cart models, it involves manually maneuvering and moving the cart via an ergonomic handlebar.
B. E-mobility Kit: an innovative system consisting of electric wheel, battery, brake and acceleration, with a range of 20 km., enabling the effortless maneuvering of the cart .
C. Electric Trike mode: a cart-integrated electric trike, equipped with high-performance Oli motor, latest generation steering system, and hydraulic brakes for effortless movement. The electric trike's range is 30 kms. (with a single battery).


9. Could I opt for a custom cart color?
We can paint the cart in any desired color, however, this will increase the manufacturing time with up to 10 days. Our standard models already in stock, and with faster delivery, are painted in white specifically to allow custom branding with decals – which is our recommended option.

10. Is there a Gelato Cart presentation video?
Yes, you can see it here.
Technical Questions - Click to Expand
1. Will I need help to unload the Ice Cream Cart ?
The fully assembled cart requires a forklift to be unloaded. For your convenience, you can opt for a tail lift van while placing your order. In this case, a pallet truck (pallet jack) is required.


2. Can I tow the Gelato Cart with my e-bike ?
Because this cart's weight exceeds 200kg, we don't recommend the trailer mode traction system for it. Instead, we recommend the Pozzetti Gelato Trike option for extra mobility, effortless pedaling and smooth breaking.


3. What does the sink kit include?
Sink kit: GN ¼ sink, 12V water pump, 2 x 20L fresh & waste water tanks.
Optionally, we can mount a scoop washer sink.

4. What type of gelato storing system is the cart equipped with?
Our Pozzetti Gelato Cart comes equipped with Dolce Vita In 6 made in Italy by Mondial.
Product Link: https://www.mondialframec.com/en/catalogue/built-in-scoop-ice-cream-and-slushies-cabinets-dolce-vita-in/


5. What is the litre capacity of the Pozzetti Dolce Vita In 6?  
The total capacity is 84 litres. The system comprises of 12 stainless steel carapinas of 7 litre each, mounted one on top of the other, 2 in each compartment.

6. What is the temperature range of the cart's gelato system? 
The machine has a digital display controller that can set the temperature from -5 to -20 degrees Celsius.

7. Can you provide a Glycol cooling gelato system?
For technical reasons, this option is not possible at the moment.

8. Could I opt for a different type of equipment?
We can provide gelato machines with 4 or 8 carapinas ( for the XL cart versions ) from the same supplier.

9. Can the gelato be kept inside the machine overnight?
Yes, provided the cart is connected to a 220v outlet for the entire time. If this is not possible, the carapinas can be removed and stored in a freezer, at a recommended temperature of -18 degres Celsius.

10. How do I clean the gelato machine?
For maintenance and cleaning purpose, the top part of the system (mounted on the countertop) is detachable, providing easy access to the inside area. The system is also fitted with a drain on the bottom part.

11. Would I be able to charge my phone, tablet or the cash register?
The Pozzetti Gelato Cart is equipped with a 220V power outlet (110V for US); additionally, the cart can be fitted with a second power outlet or an USB outlet.

12. Can additional appliances be installed on the countertop (such as food display, larger fridge, ice cream freezer, crepes machine, grill machine, popcorn maker etc.)?
The countertop layout is designed and optimized to provide the most efficient user experience; any additional equipment can be difficult to install in terms of space and arrangement – please see the section titled Workspace & Storage.

13. Is it possible to outfit the cart with a LED lighting system?
Yes; alternatively, we can supply or install the LED lighting system for you.

14. Can this cart be energy independent and run on solar power?

 This option is only available for the Pozzetti Gelato Bike with integrated electric trike. In this case, a battery for the solar panel will be mounted on the back rack of the trike, providing energy for a minimum of 8 hours per day. We can also add a rear trailer for additional storage with a second solar panel on top, doubling the energy capacity of the gelato bike.

15. Do you have working schemes for the Water system / Electric system ?
Yes, they are included in the Technical Manual, which you can find here.

16. Do you have an instruction manual ?
Yes, you can find it here. 
Payment, Delivery & Warranty - Click to Expand
1. What payment options do I have?
After receiving the proforma invoice, you can pay by card or by bank transfer. 


2. What is the manufacturing time for the Gelato Cart?
If the cart or the Pozzetti gelato machine is not in stock, the manufacturing time can be up to 30 days after the gelato machine supplier delivers us the machine. 

3. How long does the delivery take?
Europe (by road to your door): between 5 to 7 days
USA (by sea to your door): between 40 to 60 days


4. What is the delivery cost?
Fully assembled carts in Europe: EUR 900


5. How does the warranty work?
In case of parts damage or failure covered by our EU-compliant warranty policy, we will ship you the replacement parts and we will provide you with all the necessary technical support.
 
6. How fast can a warranty issue be solved?
Generally, we aim to solve all warranty issues in 3 to 5 working days.
"I ordered a pull behind kiosk (a basic vending cart) for my bike rental business and I love it. The team was very nice to work with and I trust their products."
Mark Anthony,
Pedego Electric Bikes
"I just wanted to say a massive thank you for all your help, the bike looks even better than I thought it would! When I first came up with the idea of the catering bicycle – it looks just how I imagined it to, so again, thank you. You and your team have done an amazing job. All the best."
James Williamson, 
UK
"The cart is really looking great! Nice job. We are looking forward to trying it out."
Daniel Schmidt,
Denmark